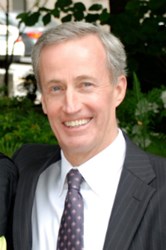 Dallas, TX (PRWEB) January 20, 2014
Career Partners International, the largest provider of global talent management solutions, has appointed William Burke as the Managing Director of the Dallas office, responsible for all practice areas. Michael D. McKee and John F. Burke, partners of Career Partners International-Houston, announced the appointment, effective immediately.
Following another record year of revenue growth in 2013, Career Partners International - Dallas reorganized its leadership team to position itself for continued growth in response to the human capital needs of its clients and the demands of an increasingly complex talent management marketplace.
With more than 30 years of human resources experience, Burke has extensive expertise in due diligence and integration management, talent management, rewards programs, and overall human resources planning and program implementation for large, multinational organizations.
Immediately prior to joining Career Partners International, Burke spent nearly six years as the VP of Human Resources for a $10B segment of Arrow Electronics. His previous experience includes six years with Thermo Fisher Scientific in New Hampshire, where he was the VP of Talent Management and Development, a stint with Novartis Consumer Products as the SVP of Human Resources and Communications, and nearly 12 years with Cadbury Schweppes in a role of increasing responsibility in Human Resources, line operations and communications.
Early in his career, Burke worked for Pepsico, Emery Air Freight, and HIPP Waters Associates.
Burke holds a bachelor of business administration degree.
About Career Partners International
Established in 1987, Career Partners International is one of the world's largest and most successful global providers of talent management solutions. Organizations of all sizes and industries turn to Career Partners International to successfully assess, engage, develop and transition talent using the expertise of over 1600 highly experienced professionals in the areas of assessment, executive coaching, leader development and outplacement. With more than 200 offices in over 45 countries around the world, Career Partners International assures that its clients have local experts with global reach in talent development, career management, executive coaching, outplacement and career transition services. Additional information can be found by visiting http://www.cpiworld.com.