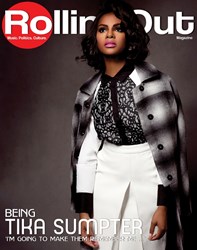 A black woman is not just one thing. Why not be able to portray those things on-screen?
Atlanta, GA (PRWEB) January 16, 2014
Tika Sumpter has been in front of the camera for the better part of a decade. The model-turned-actress is one of the stars of the action-comedy Ride Along, the Ice Cube, Kevin Hart film that kick-starts her 2014. It comes on the heels of what turned out to be a breakthrough year for the native New Yorker, but don't think for a second that the beautiful star is basking in the glow of newfound fame or looking forward to "It Girl" status in Hollywood. Quite the contrary; Tika Sumpter is here to work.
"I think one of the most important lessons that I've learned is to put your head down and work," she tells entertainment writer Todd Williams.
Sumpter started out in the early 2000s modeling for the fragrance brand Curve and appearing in commercials for Hewlett Packard. She landed the role of Layla Williamson on the long-running soap "One Life to Live" back in 2005 and she hasn't looked back since.
Sumpter has been enjoying her journey while maintaining her focus. If you want "woe-is-me" tales of hardship, look elsewhere. It's not because the personable actress hasn't had to face her trials — it's because she has faced them, grown from them and won't allow negativity to define her.
And Sumpter has developed a varied body of work. "All I know is my walk and my walk hasn't been that," she says. "I did What's Your Number? with Anna Faris, I did 'Gossip Girl' with Blake Lively. So I've been able to walk back-and-forth. I want to continue to do that. A black woman is not just one thing. Why not be able to portray those things on-screen?"
Visit rollingout.com to read the interview in its entirety. Be sure to check out this and other exclusive photo shoots and video footage with celebrity photographer DeWayne Rogers.
About Rolling Out Magazine:
Rolling out, the nation's largest free urban weekly, is a digital and print magazine that focuses on the black experience in response to entertainment, politics, fashion, culture, sports and lifestyle points of interest. Headquartered in Atlanta, rolling out is positioned as the voice for the African American experience, using its newspaper as a platform in the marketplace to express urgency for education reform, and to document entrepreneurial endeavors and other relevant issues in the Diaspora. For information on rolling out, please log on to rollingout.com.