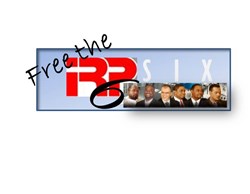 "Each time a man stands up for an ideal or acts to improve the lot of others or strikes out against injustice, he sends forth a tiny ripple of hope." -- Robert Kennedy
Denver, CO (PRWEB) January 16, 2014
A Colorado-based advocacy group, A Just Cause, reports today that repeated requests made to Attorney General Eric Holder to investigate the case of the IRP6 have been unanswered.
The IRP6 case concerns an African-American company (IRP Solutions Corporation) in Colorado that developed the Case Investigative Life Cycle (CILC) criminal investigations software for federal, state, and local law enforcement. The IRP6 (Kendrick Barnes, Gary L Walker, Demetrius K. Harper, Clinton A Stewart, David A Zirpolo and David A Banks) were convicted in 2011 after being accused of mail and wire fraud. The defense argues that key elements of the court transcript, which are key to the appeal, are missing. (D. Ct. No. 1:09-CR-00266-CMA).
A Just Cause has intervened in efforts to get the federal court in Denver to release the unedited version of court transcripts from the criminal trial of the IRP6. Court records show that the lower court and Federal Judge Christine Arguello have not provided the requested transcript, prompting A Just Cause to contact Attorney General Eric Holder. "I have called Eric Holder's office nearly everyday for the past several months on behalf of the IRP6, but we have gotten no response," asserts Ethel Lopez, A Just Cause.
Court records from the criminal trial of the IRP6 show that Court Reporter Darlene Martinez admits to omitting 200 pages of the transcript, and that Federal Judge Christine Arguello did not release the omitted pages (D. Ct. No. 1:09-CR-00266-CMA, October 2011, Court transcript pages 2062 -2063). Court records also show that Attorney Mark Geragos represents A Just Cause (AJC) in a lawsuit against federal court reporter Darlene M. Martinez regarding the situation of the unedited version of the court transcripts. (Case 1:13-cv-02260-RBJ Document 21 Filed 11/25/13 USDC Colorado).
Jay Arrington, Staff Writer/Maryland Daily Examiner, continues to implore Attorney General Eric Holder requesting that he take action and investigate this case of alleged injustice. Jay Arrington first addressed this case in October 2013 with an investigative series "Under The Radar: The Curious Case of The IRP 6" (http://www.marylanddailyexaminer.com/?p=2026). Arrington followed up with a series of Open Letters to Attorney General Eric Holder in November 2013 (http://www.marylanddailyexaminer.com/?p=2160#). Arrington's open letter recalled Attorney General Eric Holder statements made regarding the Ted Stevens case when the Attorney General stated, "The Department of Justice must always ensure that any case in which it is involved is handled fairly and consistent with its commitment to justice" (http://www.npr.org/templates/story/story.php?storyId=102589818) .
This week Jay Arrington published another Open Letter to Attorney General Holder (Part III: Cotton Fields, Big Houses & '?",http://www.marylanddailyexaminer.com/?p=2301). "Nothing says incomplete more than a story with only a beginning and an ending," states Arrington. In a published statement to Attorney General Eric Holder, Arrington states, "We know where The IRP6 started; the 'Cotton Fields'. We know where The IRP6 sit; the 'Big House'." "How you (AG Holder) decide to fill in the blank will testify as to where you stand. For without the narrative (200 missing pages) the whole of this story remains untold, we remain unfulfilled, and justice remains unrequited," Arrington concludes.
"Justice for the IRP6 is what is being sought in this case," states Sam Thurman, A Just Cause. "A Just Cause will continue to reach out to Attorney General Eric Holder, the judiciary committees in D.C., The House, The Senate, The Black Caucus, and all of the rest," Thurman continues. "A person should not have to be a distinguished legislator or high profile athlete or entertainer in order for someone like Attorney General Eric Holder, or even President Obama, to take action," expounds Thurman.
The case of IRP Solutions (IRP6) is currently under appeal (US District Court for the District of Colorado, Honorable Christine M. Arguello, D. Ct. No. 1:09-CR-00266-CMA; Case Nos: NO. 11-1487, Case Nos. 11-1488, 11-1489, 11-1490, 11-1491 an 11-1492). Appellate Court panel includes the Honorable Senior Judge Bobby R. Baldock, Honorable Judge Harris L. Hartz, and Honorable Judge Jerome A. Holmes
For more information about the story of the IRP6 or for copies of the legal filings go to http://www.freetheirp6.org
Related press releases: http://www.a-justcause.com/#!press-release/c21pq
The complete open letters by Jay Arrington can be found at the MarylandDailyExaminer.com