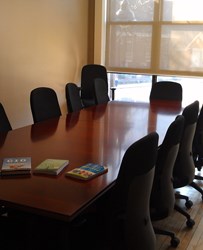 We hope this space will create a comfortable and inspirational environment for our growing staff, one that will enable Bibliomotion to serve our authors and readers more effectively.
Brookline, MA (PRWEB) January 17, 2014
Bibliomotion is pleased to present… a new home! The company will continue to produce exceptional content, share author news, book speaking events, and launch new endeavors from a spacious office located in Brookline Village, MA.
The paint had barely dried on the walls when the movers began setting up the skeleton of the new office Wednesday morning, now complete with a conference table, the comfiest chairs, and lots of shelves to hold our books.
Bibliomotion is thrilled to begin 2014 in a new location. Founders Erika Heilman and Jill Friedlander hope this space will create a comfortable and inspirational environment for their growing staff, one that will enable the company to serve authors and readers more effectively.
Nestled between a coffee shop and an Italian deli, the new office is located at:
39 Harvard Street
Brookline, MA 02445
Bibliomotion can be reached at the same office number:
617-934-2427
More about Bibliomotion, books + media:
Bibliomotion is a book publishing house designed for the new publishing landscape. While many publishers work to retrofit old processes for new realities, Bibliomotion was founded by book-industry veterans who believe the best approach is a fresh one – one that focuses on empowering authors and serving readers above all else. Moving away from the top-down model that has dominated the publishing process for years, we give each member of the team – including the author – a seat at the table from the very beginning and in doing so, work side-by-side to launch and sell the best content possible, making it available in a variety of forms.
There are no sure bets in publishing, Bibliomotion believes there is a winning formula:
-Exceptional Content – selecting ideas very carefully and offering formats for all types of readers
-Visible Authors – selecting authors with many planks on the platform, and coaching them to build more
-Community Building – building communities around authors and ideas, and inviting readers in
-Good Will and High Touch – a spirit of close collaboration between author and publisher that translates to greater potential for the books
-Fun – better be, or it's not worth doing!