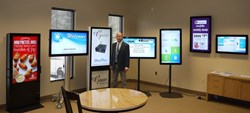 The world of digital signage is changing the way people do business.
Fairfield, NJ (PRWEB) January 22, 2014
Out with the paper signs. Hang up a new high definition digital sign to display and effectively deliver your message. Change your message at a moment's notice with an easy access software solution. Commonly seen in movie theaters, restaurants, shopping centers and schools throughout the country.
Instead of one static sign that has to last for weeks or months, with Gallery Digital Signage products you can post events, run sales and specials within minutes. Users also have the ability to draw from thousands of content sources to provide relevant programming. "The world of digital signage is changing the way people do business," says Mike Epstein, National Sales Manager of Gallery Digital Signage, a division of Vcom's Hamilton Electronics.
The new Fairfield, NJ location was decided on after a three year process which included the consolidation of 3 large facilities in Hamden, CT; Gaithersburg, MD; and Hackensack, NJ. The result is greater logistical efficiency and a state-of-the-art showroom; where large and small businesses, as well as school administrators and government agencies, can find Digital Signage solutions on display. Sales personnel are readily available to discuss and demonstrate Digital Signage options, as well as various other technology products for classrooms and boardrooms. The Gallery Digital Signage showroom is open Monday through Friday 9-5 p.m.