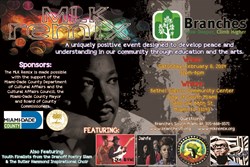 South Miami, FL (PRWEB) January 16, 2014
On February 8th, Branches and the South Miami MLK Committee will be hosting the MLK Remix, a free outdoor Arts and Culture Festival.
When: Saturday, February 8th, 2014
Time: 12 p.m.- 6 p.m.
Where: The Bethel-Gibson Community Center, 5800 SW 66th St., Miami, FL 33143
Admission Fee: None
International recording artists Jahfe, Ike and Val Woods, Delou Africa Drum & Dance and DJ Smoov will perform live on the main stage. There will be many free, kid-friendly hip-hop dance, karate, yoga, boot camp and cross-fit classes throughout the day and hands-on activities from local environmental organizations. Children and youth can also enjoy bounce-houses and face-painting. There will be several food vendors on site as well. Free tax preparation services for qualified clients courtesy of the national VITA (Volunteer Income Tax Assistance) program will be offered. Affordable Health Care Act Assistors will also be on hand to help Florida residents comply with new health insurance regulations.
The MLK Remix is made possible with the support of the Miami-Dade County Department of Cultural Affairs and the Cultural Affairs Council, the Miami-Dade County Mayor and Board of County Commissioners.
To sponsor this special event, please contact Isabelle Pike at 305-442-8306 x1002 or ipike(at)branchesfl(dot)org.
______________________________________________________________________________________
About Branches
For 40 years, Branches (formerly South Florida Urban Ministries) has made a positive impact in the community by delivering on its mission to serve, educate and inspire people through student, family and financial stability services. Branches provides long-term, holistic services for motivated individuals and families. We help people grow deeper and climb higher in life by building a foundation through education so they can achieve their goals and fulfill their potential. For additional information about Branches, please call 305.442.8306 or visit http://www.branchesfl.org.