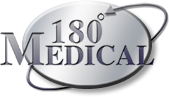 We hope that these awards can help a few bright minds achieve their dreams.
Oklahoma City, OK (PRWEB) January 17, 2014
180 Medical, one of the leading catheter suppliers in the country, is pleased to announce that it is currently accepting applications for its 2014 College Scholarship program. In all, there will be five total scholarships – each with an award of $1,000 to be used for tuition and related fees. Only students who are enrolled or will be enrolled in the fall full-time at a qualifying two-year, four-year, or graduate school are eligible. In addition, they must be under a physician's care for a spinal cord injury, spina bifida, transverse myelitis, or neurogenic bladder.
Eligible students can submit their application and other materials from January 1st to June 1st 2014 by mail: 180 Medical Attn: Scholarship Committee, 5324 W. Reno, Suite A Oklahoma City, OK 73127 or email: scholarships(at)180medical(dot)com. In addition to the application itself, other materials that must be submitted include typed questions and answers, a physician's statement of diagnosis, the most recent official transcript, and a document proving college acceptance or current enrollment.
The 180 Medical College Scholarship program was established to help students with spinal cord injuries, spina bifida, transverse myelitis, and/or a neurogenic bladder afford the high price that often accompanies higher education pursuits. Individuals with a condition and their families as well often face high medical costs that can be burdensome on their own, often leaving little allowance for college savings. Understanding the financial and medical hardships these students face, 180 Medical CEO Todd Brown established the College Scholarship program to help these special individuals have the opportunity for a successful future.
"I created 180 Medical to help individuals with unique circumstances get the products that can help turn their lives around. Students with these conditions face so many challenges already; paying for a college education might seem like an insurmountable challenge. We hope that these awards can help a few bright minds achieve their dreams," said Todd Brown, Founder and CEO of 180 Medical.
For more information on the program or to download the application, please go to http://www.180medical.com/scholarships.
About 180 Medical:
180 Medical specializes in providing intermittent catheter products to people across the United States. We offer personalized service, free shipping, insurance billing, free samples, and catheter specialists available to answer any questions you may have regarding catheter products or insurance coverage.
The 180 Medical Scholarship program was started by 180 Medical's Founder & CEO, Todd Brown, who was injured in a motocross accident that left him with a spinal cord injury.