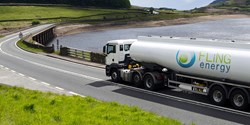 We look forward to expanding our service to enable international bulk users to enjoy our competitive LNG pricing.
Indiantown, Florida (PRWEB) January 21, 2014
FLiNG Energy, based in Indiantown, Florida, announced today that it will service the Liquefied Natural Gas (LNG) and Compressed Natural Gas (CNG) markets in Florida and beyond by sourcing and delivering fuel, as well as providing a wealth of valuable, related services, including engine and burner conversions, logistics support, and commodity risk management. FLiNG will also provide financing options that enable seamless transitions to the newest fuel technologies.
FLiNG has designed programs specifically for bulk users that leverage its proximity to Florida ports, that serve the Caribbean, Central and South Americas. In collaboration with its partners in Indiantown, FLiNG expects to quadruple its LNG capacity in the first quarter of 2016.
Says Shay Grinfeld, CEO of FLiNG: "We are very excited for the opportunity to serve the local Florida market. Our customers cover the spectrum from industrial plants to on-road fleets. We are also proud to be able to offer excellent financing options to our customers. By reducing the Capital Expenditure Requirements (CAPEX) and leveraging the distillates to Natural Gas spread, we can deliver the required engineering changes using clients' operating budgets. We look forward to expanding our service to enable international bulk users to enjoy our competitive LNG pricing."
For more information, please visit http://www.flingenergy.com.
About FLiNG Energy and Liquid Natural Gas (LNG)
Florida LNG Group, LLC, trading as FLiNG Energy, is Florida's premier provider of merchant liquefied natural gas. LNG is a clean, efficient, cost-effective and safe alternative to diesel and other petroleum-based products. FLiNG serves the marine, industrial, and on- and off-road fleet markets, as well as domestic and international bulk users like power plants, providing comprehensive transition engineering and equipment. With support from experienced industry partners, FLiNG also delivers proven alternatives to current diesel technologies. FLiNG can provide successful fuel dispensing solutions and offers complete financing options for clients transitioning to LNG.
FLiNG's headquarters is strategically located immediately adjacent to Floridian Natural Gas Storage, scheduled to begin producing LNG in early 2016. FLiNG serves the FL market, as well as the Caribbean and Central American export markets. Its close proximity to all major FL ports permits the support of international LNG users. LNG is not only a dependable source of energy; it also offers significant environmental and economic benefits. LNG reduces the emission of greenhouse gases and mono-nitrogen oxides, as well as particulate emissions and much more. Learn more about the benefits of LNG.