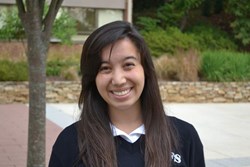 What I love the most about science is having a way to improve the quality of a person's life.
Owings Mills, MD (PRWEB) January 18, 2014
Katherine Paseman '14, Garrison Forest School (GFS) senior, budding engineer, public health advocate and National Merit Semifinalist, is one of 300 national semifinalists in the 2014 Intel Science Talent Search (Intel STS). Intel STS, the nation's most prestigious science research competition for high school seniors, is a program of Society for Science & the Public (SSP). She is one of only 21 semifinalists from Maryland and the only winner from a girls' school or independent school in the State. Katherine, whose application was among the 1,794 Intel STS applications this year, submitted her most recent research on blood analysis, "c ≠ 35H: A New Model Relating Hemoglobin, Hematocrit, and Optical Density."
"By coming to Garrison Forest and having time to explore my interests in STEM (science, technology, engineering and math), I have fallen in love with sciences," says Katherine, who plans to be a biomedical engineer. "For me, it is more important to do what I care about. What I love the most about science is having a way to improve the quality of a person's life."
Katherine's interests in bioengineering and public health show a depth and breadth beyond that of most high school students:
•In December 2013, she spent 10 days in Kolkata, India accompanying a research team from Johns Hopkins' Center for Bioengineering Innovation and Design (CBID), part of Hopkins' Whiting School of Engineering. In Kolkata, Katherine and CBID's HemoGlobe team of Dr. Soumyadipta Acharya and three graduate students field tested the validity of a new model of non-invasive blood analysis. The data collected will assist the HemoGlobe team—Katherine is the only high school student on the research trip—to create a device that can diagnose illnesses with light, highlighting warning signs of diseases such as anemia and decreasing mortality among pregnant women.
•Katherine enrolled in Garrison Forest as a junior boarding student from Silicon Valley to participate in the Women in Science and Engineering (WISE) program, Garrison Forest's research mentorship program with Johns Hopkins University. In spring 2013, she spent two afternoons a week in a CBID lab, assisting with the development of an antenatal screening kit to detect diseases such as pre-eclampsia and gestational diabetes, two of the leading causes of maternal mortality globally.
•So engrossed by the work of CBID and enthralled by hands-on research at a world-class university, Katherine chose to remain in Baltimore last summer to continue her WISE research with CBID and to work on the analytical model she submitted to Intel STS. Her summer CBID internship laid the groundwork for her field work in India.
•Last March, she earned a medal for creativity and innovation in the public health area at the 2013 Baltimore Science Fair for her independent research project, "Improving Non-Invasive blood Analysis by Expanding the Medical Spectral Window." Katherine was among a handful of AIMS (Association of Independent Maryland Schools) students whose research projects were accepted for the fair.
•As National Merit Semifinalist, Katherine is among the top three percent of all U.S. students who take the PSAT/NMSQT during junior year.
•This January, Katherine is one of three GFS student leaders coordinating the multi-school, public health awareness campaign, "January for Jhpiego," to support Jhpiego, the Johns Hopkins-affiliated international health organization providing life-saving maternal care and resources to more than 50 developing countries today (http://www.jhpiego.org). In 2013, GFS students created the first "January for Jhpiego" program, bringing Jhpiego's public health workers and CBID engineers to GFS and several Baltimore-area independent girls' schools for awareness programs. GFS and five area girls' schools will continue the effort this year by hosting the "Give-N-Go for Jhpiego" basketball tournament.
Andrea Perry, GFS's coordinator of the WISE program and director of The James Center, adds: "The exhilaration Katherine brings to all of her remarkable involvements is my very favorite thing about her; her joy and her energy are contagious. She's making such a difference right now, as a high school student, and she's exactly why we work so hard at GFS to provide opportunities and space for young women to act on their ambition and stretch the limits of their ability. Katherine has lots and lots of time ahead of her to make the world better through her passion for STEM. We're so excited to see what she does next."