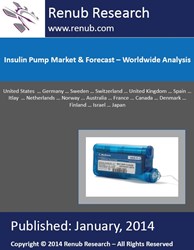 Rockville, MD (PRWEB) January 23, 2014
Insulin Pump Market & Forecast – Worldwide Analysis
Insulin Pumps are gaining strong acceptance in the market as insulin delivery systems especially for type 1 diabetes patients. Insulin pumps are gaining a lot of attraction in United States and European countries. But due to high costs of insulin pumps it has still not able to penetrate successfully in emerging markets. If insulin pump cost declines then its market is expected to grow immensely. Number of insulin pump users is expected to grow with single digit CAGR for the period of 2013 to 2018.
For the year 2013 United States is having the highest market share in insulin pump market worldwide. In terms of companies share Medtronic controls a major portion of insulin pump market globally. Insulin pump market is more than 4 Billion for the year 2013. Reimbursement plays an important factor for the growth of insulin pump in any country.
Renub Research report titled "Insulin Pump Market & Forecast – Worldwide Analysis" provides a comprehensive analysis of the current state of this market and likely future evolution over the next 5 years. This 215 page report with 174 Figures and 3 Table provides a complete analysis of top 16 Countries Insulin Market and top 4 Insulin Pump Manufacturers. All the 16 countries in the report have been studied from 6 viewpoints.
To order this report:
Insulin Pump Market & Forecast – Worldwide Analysis
Contact: Shauna
800.298.5699
Customerservice(at)marketresearch(dot)com
Renub Research
Renub Research is a full service market research firm providing customized and syndicated research solutions to business organizations. Renub Research services specialize in Energy, IT & Telecom, Insurance, Financial and Services sector. Our experienced team of analysts collate, evaluate data from credible sources so that you don't miss out on even the minutest detail of information in today's dynamic business environment.
About MarketResearch.com
MarketResearch.com is the leading provider of global market intelligence products and services. With research reports from more than 720 top consulting and advisory firms, MarketResearch.com offers instant online access to the world's most extensive database of expert insights on global industries, companies, products, and trends. Moreover, MarketResearch.com's Research Specialists have in-depth knowledge of the publishers and the various types of reports in their respective industries and are ready to provide research assistance.
Follow us on Facebook http://www.facebook.com/marketresearchdotcom
Follow us on Twitter http://www.twitter.com/marketresearch_
Insulin Pump Market & Forecast – Worldwide Analysis – Table of Contents:
1. Executive Summary
2. Worldwide – Insulin Pump Users & Forecast
3. Worldwide – Insulin Pump Market & Forecast
4. Worldwide – Insulin Pump Market Share & Forecast
5. United States – Insulin Pump Analysis
6. Canada – Insulin Pump Analysis
7. Japan – Insulin Pump Analysis
8. Germany - Insulin Pump Analysis
9. Norway – Insulin Pump Analysis
10. Australia – Insulin Pump Analysis
11. Italy – Insulin Pump Analysis
12. Spain – Insulin Pump Analysis
13. France – Insulin Pump Analysis
14. Netherlands – Insulin Pump Analysis
15. Switzerland – Insulin Pump Analysis
16. Sweden – Insulin Pump Analysis
17. Israel – Insulin Pump Analysis
18. United Kingdom – Insulin Pump Analysis
19. Denmark – Insulin Pump Analysis
20. Finland – Insulin Pump Analysis
21. Worldwide Insulin Pump – Key Players Analysis
22. Growth Drivers
23. Challenges
23.1 Safety Issues in Insulin Pump Devices
23.2 Complications Associated with the Pump
23.2.1 Weight Gain
23.2.2 Diabetic Ketoacidosis
23.2.3 Infection and Infusion Site Reactions
23.3 Adherence