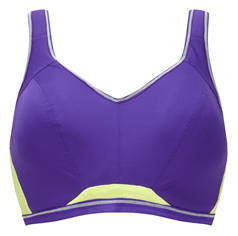 The world-leading research was the first to study three key aspects across the entire breast – strain, pain and independent movement.
(PRWEB UK) 17 January 2014
Freya Active produce a range of sports bras, available up to an H cup. However, the new crop top sports bra is their most advanced product yet. To test the level of support if offers, Freya Active submitted the design to Portsmouth University's breast health specialist team, who analysed it as part of a large scale breast research project.
The world-leading research was the first to study three key aspects across the entire breast – strain, pain and independent movement. Where previous studies monitored movement by focusing on a single point on the breast, this analysis used 19 separate markers on seven different bra sizes, from a 32FF to 36E.
Over 70% of women reportedly experience breast pain whilst exercising. This can occur when the breast tissue isn't fully supported during movement. This strain can then lead to stretching and tension of the skin, which in turn can cause pain, damage and irreversible breast sag. The prospect of breast discomfort can also deter many women from participating in sport.
The new Freya Active crop top sports bra aims to combat this by using a moulded inside layer, designed to support, shape and separate the breasts.
The Portsmouth study tested the crop top sports bra against seven other sports bra styles currently available. Overall, most breast strain was found to occur at the centre nipple line and mid-section of the breast. However, the Freya Active product beat the other styles when it came to reducing strain around the centre, base and upper pole areas of the breast.
The crop top sports bra reduced breast strain in the inner region of the breast to 3%, compared to the 28% reported in an everyday bra. It was also found to virtually eliminate strain at the nipple, reducing it to just 1%, compared to wearing no bra.
The study also revealed that the crop top sports bra offered particular benefits to women with larger cup sizes. In a 32FF to 36E, the sports bra reduced breast pain by up to 97% when running, compared to no bra (an everyday bra reduced pain by only 58%).
Women who took part in the study identified the upper pole area, high up on of the breast, as a common source of pain and discomfort. In the new Freya Active crop top sports bra, this area is supported and fully encased within the bra in an effort to drastically reduce pain.
92% of participants also felt that Freya Active's crop top sports bra offered much less breast movement within the bra. Adding that it was more effective at reducing forwards and backwards movement in the upper section of the breast than any of the other sports bra styles tested.
The women who took part were then asked also to provide a score out of 10 as an assessment of the level of support provided by all the bras tested. Overall, participants rated the new Freya Active sports bra as 20% more supportive than the other styles in this study. They also expressed a preference for the sleek, sporty shape and high coverage of the bra.
Freya Active's Design Director Ruth Fox described how, "After six years of careful development, we are extremely excited to launch this sports bra. The bra has been specifically designed to support the fuller bust and is available for larger cup sizes going up to a H cup."
Doctor Pixie McKenna, a presenter of Channel 4's Embarrassing Bodies show, added, "Exercise seems like the simple solution when it comes to maintaining good health. While many women are motived to get out and get active, it may surprise you to learn that the thing that often holds them back, are their breasts. While market research tells us that most women experience breast movement during exercise, new ground-breaking scientific research has revealed there is a lot more going on over and above breast bounce. It has highlighted that the skin and tissues are under strain during exercise and this can result not only in pain both during and after exercise, but also damage to the breast tissues ultimately resulting in breast sag. Adequate breast support in the form of a sports bra is an essential part of every woman's gym kit. But choose wisely, this research has confirmed that a sports bra needs to not only control movement but also help to reduce strain and pain. Make sure your sports bra ticks all the boxes to enable you to exercise with confidence and in comfort, ensuring you are doing the best for your breasts."
Retailing for £40, Freya Active's new crop top style sports bra, available from a 34B to 36H cup, has been designed to be worn as underwear or outwear, depending on the workout. The bra features moisture-managing microfibre fabrics covered by an odour control finish. It also incorporates a centre front extension for added support through the top cup to reduce bounce, along with padded straps to avoid rubbing against the skin.
About Freya
Freya designs lingerie, loungewear, swimwear and sports bras especially designed to offer fit and support for women with larger bust sizes. Their range is available up to a K cup and includes balcony, plunge and strapless bras. For more information about Freya please visit freyalingerie.com or email press(at)freya(dot)com