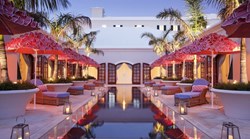 World's Most Luxurious Home Exchange Club
Miami, Florida (PRWEB) January 17, 2014
Since 2011, Real Estate Scorecard has had their eye on 3RD HOME's luxury vacation home exchange club and have watched the club's membership explode. Second home owners pay attention. This is not an average vacation home swap. The 1,700+ club members have vacation homes around the world averaging $2.5 million in value. Luxury homes in private residence clubs, all-inclusive resorts or on 50 acres in the back country of Montana. To Real Estate Scorecard, it's no surprise that 3RD HOME is affiliated with The Ritz-Carlton Residences, Trump International Hotel & Tower and Auberge Resorts.
When visitors scroll through 3RD HOME's website, readers will likely jonesing to plan a vacation in Cape Town South Africa or Costa Rica. The reservation process is quick and easy. To become a member, people must own a vacation home valued at $500k or higher in a desirable location. After members deposit exchange weeks (weeks where club members can vacation at your home), members are immediately provided a number of Keys, the credits that serve as the currency in the 3RD HOME system, for use to reserve another home anywhere in the world 24/7 on the website. The more weeks members deposit, the more Keys members earn. 3RD HOME determines the Keys earned per week based on the home's value:
HOME VALUE = KEY VALUE
$500,000 to 1,000,000 = 1 Key
$1,000,001 to $2,000,000 = 2 Keys
$2,000,001 to $3,000,000 = 3 Keys
$3,000,001 to $4,000,000 = 4 Keys
over $4,000,001 = 5 Keys
Romantic villas in Napa Valley, chateaus in France or oceanfront mansions in the Caribbean are just a few of the types of luxury homes available. The club is flexible and easy. Weeks exchanged do not need to be at the same time of the year. 3RD HOME's website provides a 'real time' list of properties and dates available. The property profile shows comprehensive information about the home, an image gallery, regional activities, and places of interest. Click 'reserve property' and club members are quickly connected with the property owner to coordinate travel arrangements. 3RD HOME's website allows members to check the current weather and airline flights on the same page. There is a $495 fee for the exchange. Some homes come with butler service, gourmet chefs and daily maid service. Others come with access to resort amenities such as golf and spa services.
Similar to Real Estate Scorecard, 3RD HOME collects reviews sharing important information with club members about the home exchange experience. Many of the properties in 3RD HOME's club are in resorts and neighborhoods we've scored on Real Estate Scorecard's website such as:
FLORIDA:
Lely Resort
Pelican Bay
Sea Oaks
GEORGIA:
Big Canoe
Reynolds Plantation
SOUTH CAROLINA:
Fripp Island
Kiawah Island
Seabrook Island
Wild Dunes Resort
NORTH CAROLINA:
Balsam Mountain Preserve
Blue Ridge Mountain Club
Currituck Club
TENNESSEE:
Icon in the Gulch
The last thing a successful and busy luxury home owner wants is the hassel of renting their private oasis to an unknown. 3RD HOME provides a sweet concierge service looking out for club members by prescreening club members and assisting with the exchange.
Real Estate Scorecard and 3RD HOME naturally go together, like peanut butter and chocolate. Buyer's searching for a second or vacation home will find Real Estate Scorecard helpful in choosing the right vacation home and leveraging it through 3RD HOME's club program.
About Real Estate Scorecard:
Real Estate Scorecard writes unbiased real estate reviews providing in-depth information about popular gated communities in Florida, Georgia, North Carolina, South Carolina and Tennessee, all in an effort to help people discover where to retire in the Southeast.
Website: http://realestatescorecard.com
Image courtesy of 3RD HOME