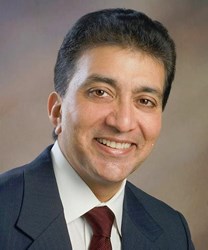 He considers it an honor and privilege to enter into the lives of patients to assist them with their medical needs.
Gulfport, MS (PRWEB) January 24, 2014
DoctorsElite, a site that helps patients around the United States locate doctors by diagnosis, treatment, and specialty, has announced that Dr. Umesh Patel, a Lacombe, Louisiana cardiologist, has added his own profile to the growing number of doctors using the site.
Dr. Umesh Patel graduated from London University Medical School in 1979, after which he completed ten years of specialist training in England and at Tulane University Medical School before entering into private practice. Besides practicing medicine for over 34 years, he holds multiple Board Certifications, is listed in the 2014 Marquis' Who's Who in the World, and has other honors including leadership positions in both his private practice, as well as at the hospitals where he practices.
Dr. Patel's interests include diagnostic and preventative non-invasive cardiology, management of heart failure, chest pain syndromes, hypertension, arrhythmia, lipid disorders, mitral valve prolapse and dysautonomia syndrome, as well as pacemaker and defibrillator therapy. He considers it an honor and privilege to enter into the lives of patients to assist them with their medical needs. He is open to consideration of non-traditional therapies and provides patients with natural options for disease management and promotion of wellness.
Dr. Patel founded his CardioMed Clinic in 2009 with the vision of creating a medical practice that treats every patient with dignity and first-rate care. The nurses and office staff at CardioMed Clinic are highly trained and exceptionally friendly. Dr. Patel understands that, for many, visiting a doctor can be a stressful experience. The comfortable surroundings and compassionate medical professionals of CardioMed clinic helps to put patients at ease.
Patients, doctors, and healthcare organizations can all register on DoctorsElite to search for medical professionals by diagnoses, treatments, and specialties.
About DoctorsElite
Founded by Cyril Bethala, MD, DoctorsElite is a free, secure online service that helps patients find doctors, doctors network with one another, and healthcare facilities promote themselves. With the overarching goal of helping patients take their care into their own hands, DoctorsElite strives to make their tools as comprehensive and easy to use as possible.