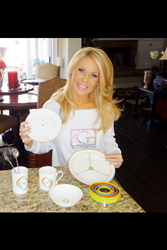 ...Gretchen does not like the feeling of being deprived, so she eats everything...
Rock Hill, SC (PRWEB) January 17, 2014
Former cast member of The Real Housewives of Orange County, Gretchen Rossi, explains in her blog that she regularly practices portion control. She continues explaining that she does not enjoy the feeling of being deprived, so she eats everything. Gretchen portions her food to one helping instead of two or three. She also eats more throughout the day, which keeps the metabolism in a fat burning mode.
Gretchen recently posted a tweet raving about the SlimPlate System. "I've said 100 times my secret to staying lean is portion control. Check out this super cool system I found, bought one for Slade," Gretchen Rossi states. "Say goodbye to tuba wubba forever, this is so cool."
The SlimPlate System is a portion control four month weight loss plan that forms better eating habits. It consists of 13 pieces including plates, bowls, cups, and cutters. The SlimPlates are marked with colorful lines showing where to put carbs, vegetables, and meats. The smart cutters are used when different shaped foods become difficult to portion.
The creators of the SlimPlate System, Dr. Nwe and Dr. Grewal, are also offering a new Online Weight Loss Program "Shaping the Perfect You" completely free for limited time only. The next session will be January 23, 2014. Registration for this program is easy, just fill out the simple form. "Shaping the Perfect You" provides a step by step practical approach to effective weight loss from a weight loss doctor.
Dr. Nwe is a Diplomate of the American Board of Obesity Medicine and is Board-Certified in Internal Medicine. She co-founded the Ace Medical Weight Loss Center and co-created the SlimPlate System with Dr. Grewal. Sandeep Grewal, M.D. is Board-Certified in Internal Medicine and was the recipient of The Charlotte Business Journal's Health Care Innovator Award for 2013, and also named to the Top Forty Under Forty List in 2013.
For complete information on four month weight-loss through portion control, visit the SlimPlate System.