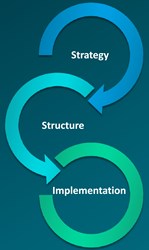 As much as 90 percent of today's business strategies are not implemented as intended.
Raleigh, NC (PRWEB) January 16, 2014
Companies are increasingly struggling to integrate their operational plans with their strategic business plans, leaving as much as 90 percent of today's business strategies not implemented as intended.
According to a new paper by Tompkins International, From Business Strategies to Operations: How to Align Execution with Strategic Plans, even the smartest business strategy can be thwarted if there is no well-defined and comprehensive plan for implementing it through operations.
Interestingly, little attention has been given to "operationalizing" business strategies until recently.
"Today's executives are concerned now more than ever with alignment and how execution can best be used as an enabler of business strategies, rather than as a limiting factor," explains Gene Tyndall, author of the paper and Executive Vice President, Tompkins International.
Companies need to think about how they can parallel their supply chain operations with their business strategies by evaluating their assets, locations, processes, people, technologies, and inventory policies. Essentially, it is all about aligning the execution capability with strategies.
Tyndall says Tompkins International's three-step process for defining the right operations strategy provides the critical "bridge" between business strategies and operations performance.
Download the paper to learn more about bridging the gap between strategies and operations, and planning and execution.
About Tompkins International
Tompkins International is a professional services firm that provides new solutions for supply chain improvement. Tompkins enables client organizations to be more profitable and valuable, while also becoming more skilled, agile, and adaptive to leading practices. We collaborate with client teams to develop improved operations strategies, supply chain planning, and execution of all the Mega Processes of supply chains (PLAN – BUY – MAKE – MOVE – DISTRIBUTE – SELL). With headquarters in Raleigh, NC, Tompkins also has offices throughout North America and in Europe and Asia. For more information, visit http://www.tompkinsinc.com.
CONTACT:
Barbara Adams
badams(at)tompkinsinc(dot)com
Twitter: @jimtompkins
Creating Supply Chain Excellence Blog: http://www.tompkinsinc.com/category/blog/
Global Supply Chain Podcast: http://www.tompkinsinc.com/category/podcast/