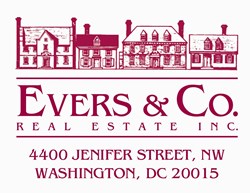 Washington, DC (PRWEB) January 16, 2014
The Washington-DC real estate market finished out a strong 2013 with a 10.4 percent increase in average sales price and a 20 percent increase in dollar volume of sales over 2012. Further, days on the market dropped by 22 percent over the course of the year.*
"We are seeing phenomenal numbers going into 2014," says Donna Evers, president and broker of Evers & Co. Real Estate. "In the last year, we already have seen an incredible difference between buying a home now versus buying at the start of 2013. We expect to experience even more of a difference for buyers who delay their purchases until next year."
A house that cost $650,000 in January 2013, for example, would sell for $717,600 today, Evers said. The jump is indicative of the rapidly strengthening DC housing market which shows no signs of slowing in 2014. Moreover, most of the price increases occur during the first half of the year, which makes purchasing a house at the start of the year a better time for buyers.
Overall, the Metro Area has recovered well from the housing market crisis in 2008 with year-end numbers showing home prices within 96 percent of what they were at the peak of the market in 2005. It's now a buyer's opportunity to take advantage of today's prices.
Evers' market report is available on video at http://www.eversco.com/evers-co-december-2013-market-report-cast/.

Statistics are taken from the Metropolitan Regional Information System for three areas: Washington, D.C.; Montgomery County in Maryland; and Fairfax County, Arlington, Alexandria and Falls Church in Virginia.
About Evers & Co.
Founded in 1985 by Donna Evers, Evers & Co. Real Estate, Inc. maintains its success through a strong referral base and agents who enjoy a premier reputation for their expertise and in-depth knowledge of Washington Metro Area homes and neighborhoods. Evers & Co. is home to more than 100 licensed real estate professionals with decades of combined experience, who enjoy access to a first-of-its-kind Agent Resource Center. The agency is the largest woman-owned and-operated residential real estate firm in the area and a member of Unique Homes Affiliate Network, Who's Who in Luxury Real Estate and FIABCI, the largest international real estate organization in the world. In addition, the agency has an alliance with My Home In Paris, a residential real estate firm in Paris, France. For more information about Evers & Co. Real Estate, visit http://www.eversco.com.