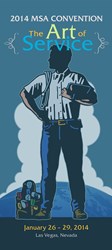 The event is our way of sharing the passion and practical steps necessary for achieving personal and professional success in the appliance industry.
Las Vegas, NV (PRWEB) January 20, 2014
Marcone Supply proclaims 2014 is the year of "Better Business, Better You" for its upcoming convention in Las Vegas. Appliance technicians, small business owners, and top brand manufacturers will converge January 26–29 for the bi-annual convention dedicated to the appliance service niche. The event is put on by MSA, a leading trade group representing the appliance service industry and backed by the nation's largest parts distributor, St. Louis-based Marcone Supply. The convention includes technical training, business classes, and luxury perks.
The 2014 gathering will take place at the Rio Hotel & Casino (3700 W. Flamingo Rd., Las Vegas). The event schedule includes a variety of offerings to help attendees connect with the convention's "Better Business, Better You" theme. The line-up consists of appliance trainings from master technicians and reps from brands like Whirlpool, GE, Samsung, Electrolux, and LG, among others. Classes tailored to the small service business owner are available to attendees as well. And the event's "Better You" message will highlight a focus on health and happiness, with perks like chair massages and morning fitness sessions, and the opportunity to get involved with the featured charity, military support non-profit HEROES Care.
"The concept of starting fresh and improving ourselves is a traditional theme for every new year, and with good reason. So, what better time to get fresh perspectives, learn more, and find new ways to better our lives all around?" says Rick Vogel, Vice President at Marcone. "The event is our way of sharing our passion by providing the practical steps necessary to achieve personal and professional success in the appliance industry."
Marcone Supply is a major appliance parts distributor with over 50 stores across North America. The company was established in 1932, and has been family-owned since its beginning. Marcone Servicers Association was founded in 1998 to provide a support and education network for appliance technicians and businesses in the U.S. and Canada.
Convention registration is open through Saturday, January 25.