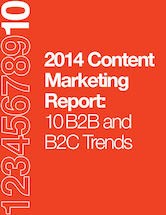 Dallas, TX (PRWEB) January 17, 2014
D Custom, an integrated content marketing agency located in Dallas, Texas, has released its 2014 report on the top trends for B2B and B2C content marketing practices.
The agency spent a great deal of time at the latter part of 2013 discussing what mobile, digital, social, and print marketers thought were the top emerging trends for the 2014 year, gathering qualitative insights from clients and specialists in content marketing, web development and beyond.
The report features ten trends that D Custom predicts B2B and B2C marketers will concentrate on in 2014, from an increased intersection between native advertising and content marketing to a shift in focus for social media marketing.
"Content marketing has grown rapidly in the past few years, and 2014 will only continue that upswing," says Gordon Price Locke, president and general manager of D Custom. "The groundwork was laid in 2013 for the trends we see toward highly curated, visual, and data-driven content that puts the customer in the driver's seat—and the publisher's chair. It promises to be an interesting year as new technology is developed and new practices and roles emerge."
"2014 Content Marketing Report: 10 B2B and B2C Trends" is available as a free download at http://dcustom.com/2014-content-marketing-report-10-b2b-and-b2c-trends. For more information about D Custom, please visit http://www.dcustom.com or contact Jessica Fritsche at 214-523-5231.
D Custom is an integrated content marketing agency located in Dallas, Texas. They work with B2B and B2C clients around the globe to help them drive sales through content. Brand journalists at heart, they develop your message and deploy it across channels to connect you to your audience online, in print, and beyond.