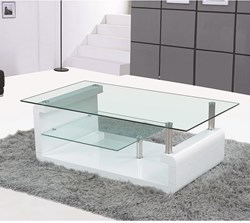 (PRWEB UK) 19 January 2014
On Boxing Day, FurnitureInFashion witnessed 21,000 people visiting its website– up nearly 3% from the same time in 2012. Online transactions on the day saw an increase of 27% compared to 2012, and online transactions almost doubled, with 65,000 people visiting the website on Boxing Day alone.
FurnitureInFashion offered early bird offers on products from its dining, living room, and bedroom ranges, including ranges like the Odessa Range, Sydney Range, High Gloss Products etc.
The company reports that the Winter Sale, which began on the 23rd of December, saw an increase in people visiting the online store's website from devices such as mobiles and tablets, with a 85% increase from mobile devices and an almost 48% rise in people visiting the site from a tablet compared to last year.
In November 2013, almost 75% of people purchasing from brick and mortar stores previously, visited the FurnitureInFashion's website. The first three weeks of December 2013 saw a 32.66% increase in website visits and a 23.55% increase in product views.
According to FurnitureInFashion, the dining furniture figures are significant, because typically these are purchased for new properties – for a large number of website visitors to be looking at this sector is reflective upon the fact that a large portion of consumers are thinking about house moves or first purchases, a figure which is much greater than the last year's equivalent.
The marketing and e-commerce director of FurnitureInFashion, says: "FurnitureInFashion's core business is in big-ticket items and all of our furniture, dining and beds ranges have performed well during autumn. Over the past five years, the economic climate has prompted people to be conservative in their spending, but with a gradual improvement in the housing market there are definite signs that consumer confidence is returning, and we expect that the demand for big ticket items will further increase and the number of visitors to our website will increase too".
Consumer buying pattern and buying behavior gives a big idea about how the property market is doing. Furniture purchases have increased in recent times suggesting that more number of people are purchasing it. FurnitureInFashion's products can also be viewed on its Facebook page, which is being liked by an increasing number of people every day. There are photos and videos of its products along with details like the price and make of the furniture. The furniture at this online furniture house is of high quality and is available at affordable prices.
To have a look at quality affordable furniture online and to place a pre-stock order, please visit the company website today at http://www.furnitureinfashion.net. The range of home and office furniture on the website is huge, delivery is fast, savings are massive and quality is guaranteed.