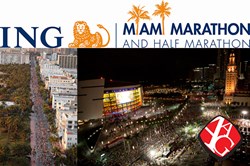 Miami, FL (PRWEB) January 21, 2014
Integrative wellness leader AAG Health will be making an appearance at the Nissan Health & Fitness Expo for a second straight year. The Miami Beach expo, which coincides with the 2014 Miami Marathon and Half Marathon, will be jam-packed with more than 100 exhibitors showcasing the latest trends in diet and fitness.
Taking place Jan. 31 and Feb. 1 at the famous Miami Beach Convention Center, the expo is completely free and open to the public. Attendees who stop by the AAG Health booth will have access to a wealth of program information and complimentary services, including free InBody assessments. The InBody is a state-of-the-art machine designed to calculate one's body mass index and other critical health factors.
"We're excited to participate yet again in this incredible expo," says AAG Health Chief Operating Officer Jeremy Edwards. "It's always fun to talk with all sorts of people seeking to improve their health in one way or another. This year, we especially look forward to introducing everyone to some new faces on our team."
One new face that attendees can expect to see is Jenny Patrizia, "The Sexy Nutritionist." The international TV personality joined the AAG family last month and is already helping men and women transform their lives with personalized nutrition counseling. Ex-NFL star Mikhael Ricks will also be at the AAG booth greeting visitors. The retired tight end played for the San Diego Chargers, Kansas City Chiefs and Detroit Lions.
For more information about AAG Health or the expo, contact an AAG Health Advisor at 1-800-325-1325.