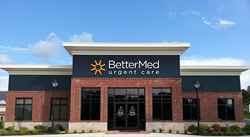 BetterMed provides the same level of expert care for minor emergencies as a hospital ER, in a more pleasant, timely & cost-effective way.
Richmond, VA (PRWEB) January 17, 2014
BetterMed Urgent Care, formerly known as Emergency Physicians Immediate Care, proudly announces the opening of their second new facility in Colonial Heights, VA to the public for their services including Urgent Care and Emergency Care.
BetterMed Urgent Care, formerly known as Emergency Physicians Immediate Care, provides a comprehensive range of urgent care services. Here clients will find a better alternative to other "doc-in-a-box" facilities around town. Every physician at BetterMed is trained and Board Certified in Emergency Medicine, so patients get a superior standard of care. And clients will always see a physician, no matter what the issue is.
BetterMed Urgent Care always provides Superior Standard of Care. They are the first and only immediate care center in Central Virginia with this distinction and patients receive expert medical care, always.
At BetterMed Urgent Care they:
+ Accept most insurance plans
+ Offers co-pays that are typically lower than ER visits
+ Keeps your doctor in the loop with complete follow-up reports
+ Uses the latest medical technology
+ Lets patients register online before their visit
+ Offers InstyMeds for on-site prescription medications
+ Streamlines hospital admission if patients need to be treated further
When a patient requires further examination or treatment at a hospital, BetterMed makes the process simple. There's no need for a trip to the emergency room that results in more waiting and another doctor visit. They work directly with the hospital to facilitate admission.
BetterMed Urgent Care also uses the latest medical technology to provide added convenience for their patients. Their patients can register for their visit online. Online registration is quick, secure and easy. Visit their website at http://bettermedcare.com/ to register online to know more or call them at phone numbers 804-639-7555 for their Midlothian location and 804-704-8655 for the Colonial Heights location, their second and newest facility.