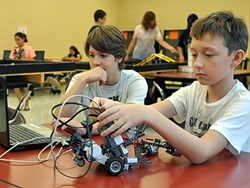 No other state has this type of match incentive for providing above-and-beyond support for students and classrooms through local education foundations.
Gainesville, FL (PRWEB) January 21, 2014
What happens when the Florida Legislature allocates $4 million in matching funds for contributions to local education foundations for the 2013-14 school year? Their volunteer leaders and staff roll up their sleeves to raise even more for locally driven initiatives to increase student achievement!
"We were pleased to be able to fund the School District Education Foundation Matching Grant Program at the level it was before the Great Recession, and equally pleased that local education foundations throughout the state responded by bringing in new business and community contributors," said Florida Senator Bill Galvano (R-26) "Beyond the dollars, it is powerful that this program gets Floridians engaged with their local schools as well as supporting innovative instruction and extra support for students beyond what school districts can provide."
Before state funds are distributed, local education foundations must certify that the matching dollars have been raised from non-government sources. Foundations must also develop local programs that specify how they will address one or more of the current eligible program areas: teaching quality, increasing graduation rates, support for low performing students, literacy, STEM and career/technical education. Since it began as an initiative of the Consortium of Florida Education Foundations (CFEF) in 2001, more than $25 million in state funds has been leveraged through the match program. This school year alone, the funding resulted in 125 locally driven initiatives in 53 of Florida's county-wide school districts impacting more than half of the state's 2.7 million K-12 students.
"From our perspective, it's a tremendous way for us to double the impact of our investments in education in Florida," said Wells Fargo Community Affairs Manager Connie Smith, whose company provided matching funds in 11 school districts this year. "We especially like that the local education foundations are able to develop programs that make sense for their local schools and that they measure and report the outcomes of their work."
With any additional funding provided for the 2014-15 school year, the CFEF is proposing the additional eligible program areas of digital learning and implementation of the new Florida Standards for education – both critical priorities as the state continues to set higher standards for student achievement.
"No other state has this type of $1 for $1 match incentive for providing above-and-beyond support for students and classrooms through local education foundations," said National Schools Foundation Association Executive Director Nina Menis. "Florida is a true leader in encouraging business, individual and philanthropic investment in public education and state leaders should be applauded for making the program a priority and empowering community leaders to make a difference for their students."