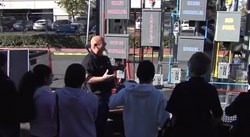 You don't know what you're going to do in life until you go out and experience it, so that's what we're doing here.
San Bernardino, CA (PRWEB) January 20, 2014
During a video interview with Energy Independence Magazine, Jerry Almendarez, superintendent of the Colton Joint Unified School District, explained that while researching various industries relevant to the region's economic recovery, district administrators learned that a five-year apprenticeship program offered by the National Joint Apprenticeship and Training Committee (NJATC) required a two-year math prerequisite, including algebra. According to Almendarez, the Colton district has a problem with a disproportionate amount of students failing algebra at the ninth-grade level, so a partnership was created to help motivate middle school kids approaching high school. The NJATC regional facility in San Bernardino is one of more than two hundred across the United States and Canada established by the International Brotherhood of Electrical Workers (IBEW) and the National Electrical Contractors Association (NECA) in order to train their members. The middle school boot camp, originated in order to demonstrate to middle school students the practical application of a sometimes-abstract subject.
After the event, the superintendent, speaking with Energy Independence Magazine, repeated the objective of motivating his students to pass algebra, adding the district was "charged" with making math relevant to sixth, seventh and eighth-graders. He said they were optimistic about holding more boot camps in the future. When asked, he agreed the kids were receptive. They were learning and having a good time. "You could see it by the looks on their faces, [and] the questions they were asking." Students worked with power tools, learned about CPR and experienced electrical application scenarios safely. Superintendent Almendarez was encouraged by the students' reception and apparent interest in the program. He said more boot camp events could be in the works for next season, adding that San Bernardino County's Alliance for Education supports participation in career-related educational programs like the NJATC boot camp.
Rick Purper, the executive director of the IBEW/ NJATC San Bernardino facility, was also happy with the event. He said they were trying to facilitate the students' understanding of "the world of work" within the confines of electrical contracting. The boot camp experience included instruction on how to prepare for a job interview and why math and reading are relevant in the workforce. Students attended a safety class where they were introduced to the theory of electricity, and learned about the dangers involved. They also worked hands-on and used drill motors to build a rack for an electrical support system. "There were a lot of physical skills involved, but also a lot of academic skills," Purper said. "We're excited about it. It's gone very, very well. The cooperation we've had with the Colton Unified School District has been tremendous. We do expect this to be an ongoing effort and expand into other counties," he said.
CJ Hamilton, a gregariously grinning instructor at the NJATC facility, feels that the practical application aspect was a success. Hamilton said, "You don't know what you're going to do in life until you go out and experience it, so that's what we're doing here. Some parts of the class, we're showing them how to bend pipe. Some of them … are shown the safety aspect, so they get a little touch of it. As a matter of fact, I had a child come up to me the other day and say, 'You know, I was going to be a lawyer. [Now] I think I'll be an electrician.'" CJ said, "I think that was a great choice."