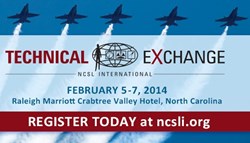 HOW ARE YOUR MEASUREMENTS STAYING CURRENT?
Raleigh, North Carolina (PRWEB) January 28, 2014
The Technical Exchange is aimed at individuals involved in defining and performing measurements in a calibration laboratory, or working on design and verification tests in various fields.
Each class is designed from 4 to 8 hours. A "hands on" approach is used to build or enhance attendee knowledge of fundamentals, understanding of applications, and use of best practices, in addition to introducing new hardware and software solutions.
Technical Exchange Exhibitors will feature: Additel, Consumers Energy:Laboratory Services, Essco Calibration, Kaymont, RH Systems, Thunder Scientific Corporation.
The Technical Exchange is sponsored by NCSL International as an ongoing educational training event designed to provide access to low cost and high quality measurement science training solutions.
NCSL International is a nonprofit organization, whose membership is open to any organization with an interest in the science of measurement and its application in research, development, education, or commerce.