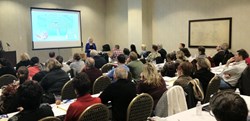 Having a diverse group of the top educators teaching the clinical component of our courses allows us to offer a comprehensive one-stop shop of the best education in the industry for both the dentist and the entire team.
Tequesta, FL (PRWEB) January 16, 2014
It is estimated that more than 22 million Americans suffer from a severe health condition known as Obstructive Sleep Apnea (OSA). Patients are turning to their dentist for less invasive treatments, including oral appliance therapy (OAT). With the help of Nierman Practice Management (NPM), dental practices are learning how to successfully implement OAT into their practice.
Providing leading continuing education programs to dental offices implementing medically necessary services for over 25 years, NPM has lined-up an incredible list of speakers for their 2014 Dental Sleep Medicine (DSM) seminars. NPM also expanded their seminar offerings, complementing a busy schedule for the popular Successful Implementation of Dental Sleep Medicine. Advanced Implementation of Dental Sleep Medicine is offered on both the east and west coast and their Risk Management for Dental Sleep Medicine Symposium taught by Dr. Ken Berley, a dentist with experience as a practicing attorney will be taught in South Florida. "We have worked with many of our 2014 speakers for over a decade in one way or another and couldn't be more excited to have such a great group of speakers and courses lined up for the year." exclaims Rose Nierman, Founder & CEO of NPM. "Our speakers have built some of the most successful DSM & TMD practices in North America, are well respected for their innovative scientific contributions and are all as passionate as we are about growing the industry by helping practices succeed in implementing Dental Sleep Medicine."
Practicing dentists on NPM's 2014 faculty include:
Kent Smith, DDS
Barry Glassman, DMD
Steve Carstensen, DDS
DeWitt Wilkerson, DMD
Mark Levy, DDS
Mark Paschen, DDS
Terry Bennett, DMD
Jamison Spencer, DMD
Todd Morgan, DMD
Dawne Slabach, DDS
Mayoor Patel, DDS
Shouresh Charkhandeh, DDS
Ken Berley, DDS, JD
NPM's DSM seminars educate dentists and team members on treating sleep apnea patients with oral appliance therapy, including practical education on the science of obstructive sleep apnea, medical billing and risk management, collaboration with sleep labs and physicians and proper treatment protocols. "Having a diverse group of the top educators teaching the clinical component of our courses allows us to offer a comprehensive one-stop shop of the best education in the industry for both the dentist and the entire team" says Katy Nierman, President of NPM. "Dentists who want to attend multiple DSM courses can learn from the best in the industry and get their entire team properly trained, while developing an ongoing relationship with a company dedicated to providing support to practices implementing DSM." Medical billing is a critical factor in the success of a DSM practice and NPM emphasizes its importance with dedicated breakout sessions for team members taught by Rose Nierman, RDH, Kindra O'Rielley, RDH, Janice Franchak & Cynthia Levy.
In addition to offering attendees the most well rounded group of speakers NPM has also teamed up with some of the most experienced industry vendors. NPM believes that dentists should see and experience a wide range of products and services that can assist them on their journey to implementing DSM. Attendees will be able to try a variety of home sleep studies and view a wide range of oral appliances for the treatment of OSA while at the seminar. Some of the companies that will be in attendance include Itamar Medical, Braebon Medical, John's Dental Lab, Great Lakes Orthodontics, ResMed, Sansotec Corp with their Max-Air Nose Cones and Sinus Cones and BioResearch who offers non-invasive evaluation of the TMJ.
Successful Implementation of Dental Sleep Medicine seminars are accredited with the AGD PACE and ADA CERP programs and offers 16 CE credits. A comprehensive list of course dates and locations for the 2014 courses can be seen at http://dentalwriter.com/Successful_Implementation_of_Dental_Sleep_Medicine.aspx.
Call 1-800-879-6468 or email contactus(at)dentalwriter(dot)com for more details.
About Nierman Practice Management
Founded as a continuing education company in 1988 when Rose Nierman began speaking to dental practices on how to successfully implement medical billing, Nierman Practice Management (NPM) has paved the way for dentists billing medical insurance.
NPM developed the first manual on implementing medically necessary procedures in a dental practice, followed by the revolutionary software programs DentalWriter™ and CrossCode™, allowing practices to streamline their medical billing and documentation protocols and save hours of time per case. NPM has helped more dental practices collect medical reimbursement than any other organization.
Fax: 561-744-5606
http://www.dentalwriter.com