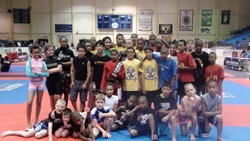 Camp Springs, MD (PRWEB) January 17, 2014
Lloyd Irvin is the head instructor of Lloyd Irvin's Martial Arts Program. Master Lloyd Irvin and Master Donnie Achnick have spent over 10 years growing and developing the kids program here in the Prince George's County area, and they've had much success. In fact, more than 12 kids have been in the program for over a decade. They have multiple titles and awards from Grapplers Quest, NAGA, and the IBJJF (International Brazilian Jiu Jitsu Federation).
Well, the Lloyd Irvin Kids are at again, this time heading to California for the 2014 Kids Pans tournament hosted by the IBJJF. It's the biggest youth tournament in the country, and Team Lloyd Irvin is proud to represent. The Lloyd Irvin Kids team has won the IBJJF Worlds title twice, and would like to add Pans to their already decorated mantle.
Head Youth Coach Master Donnie will bring over a dozen kids with him, some parents also attending to help escort the team of champions. Affiliate academies, such as Crazy 88 and Ivey League are also sending some of their youth competitors to the prestigious tournament.
The Kids Pans tournament will take place on February 16, 2014 in Carson, CA. The tournament will be held at California State University - Dominguez Hills.
Lloyd Irvin's Martial Arts Academy boasts a free trial for any parent interested in signing their kids up for martial arts. The academy offers After School Care, where staff will pick kids up from school; evening martial arts classes, and a world renowned Summer Camp Program.
For more information on Team Lloyd Irvin, please visit: http://www.lloydirvin.com or call 301-449-KICK, lines are open 24/7.