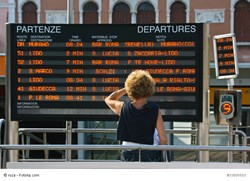 Somerville, MA (PRWEB) January 23, 2014
When traveling by train throughout Italy, it is advantageous to know certain key words and phrases in Italian. This will help you to navigate the railway system, and will go a long way with the locals. While English is spoken widely in the larger cities, it is less so in the smaller towns and villages. ItaliaRail has gathered the top ten train related terms, with definitions, plus how to use them in a sentence, to help keep you on track.
To assist with the pronunciation of each phrase, audio versions are provided by ItaliaRail on the website, for those who are more comfortable learning by ear.
train - treno
What platform is my train leaving from?
DA QUALE BINARIO PARTE IL MIO TRENO?
ticket - biglietto
Where should I get my ticket validated?
DOVE SI CONVALIDA IL BIGLIETTO?
train station - stazione
Where is the main train station?
DOV'È LA STAZIONE CENTRALE?
restroom - bagni
Where are the restrooms?
DOVE SONO I BAGNI?
baggage check/left luggage - deposito bagagli
Where is the baggage check area?
DOV'È IL DEPOSITO BAGAGLI?
arrival/departure - orari di arrivo/partenza dei treni
How can I find out about train arrival and departure times?
DOVE TROVO LE INFORMAZIONI SUGLI ORARI DI ARRIVO E PARTENZA DEI TRENI?
customer service/information area - ­ l'assistenza clienti/l'ufficio informazioni
Where is the customer service/information area?
DOV'È L'ASSISTENZA CLIENTI? / DOV'È L'UFFICIO INFORMAZIONI?
express train - treno espresso
Is my train an express train?
(IL MIO) È UN TRENO ESPRESSO?
dining car - la carrozza or ristorante
Where is the dining car?
DOV'È LA CARROZZA / IL VAGONE RISTORANTE?
self-service ticket kiosk - biglietteria automatica
Where is the closest self-service ticket kiosk?
DOV'È LA BIGLIETTERIA AUTOMATICA PIÙ VICINA?
The most important phrases you can use are, of course, "Please" (Per piacere) and "Thank You" (Grazie), to be sure to make your experience more affable. With peak travel season just a few months away, we recommend that you book your tickets now while seats are available at the lowest prices. As your departure date approaches, you can brush up on your Italian, so that it will be fresh in your mind once your journey begins. For more information on how to best prepare for your trip, be sure to review our Italian train travel guide.
About ItaliaRail: ItaliaRail are the experts on Italy train tickets and passes. In cooperation with Trenitalia, Italy's only national railway, ItaliaRail provides a direct connection to Trenitalia's reservation system allowing rail travelers access to the most routes at the best prices. Travelers are able to book in multiple currencies and knowledgeable customer service agents are available to answer questions and give advice on train travel throughout Italy. ItaliaRail was launched in 2005 and is a division of International Rail, LLC.