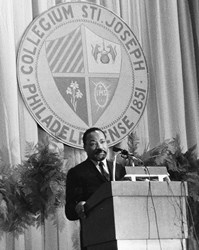 It's all right to tell a man to lift himself by his own bootstraps, but it is cruel jest to say to a bootless man that he ought to lift himself by his own bootstraps.
Doylestown, PA (PRWEB) January 17, 2014
Tom Lingenfelter, America's History Detective of Doylestown, Pa., announced the discovery of the 47-year old magnetic quarter-inch audio tape of Dr. King's only major speech in Philadelphia (to an audience of 3500 in the alumni field house of St. Joseph's University). No other recording of this speech is known to exist.
The recorded speech along with unpublished photographs were found in the forgotten collection of the photographer/journalist who covered the event October 26,1967....all are in excellent condition.
This quintessential hour long speech of carefully measured tone, blend of logic, activism, the Bible and American history...plus the passionate desire for a fully integrated society based upon real freedoms; the voice and the reasoning of Dr. King are unmistakable. This one speech contains a summary of nearly all of King's major concerns.
Lingenfelter said the photographs and tape are preserved in a secure facility while plans are being considered for it's presentation to the public.
Lingenfelter, is a former Counter-Intelligence Special Agent and President of the Heritage Collectors' Society and discoverer of the Only True Facsimile Copy of the Original Declaration of Independence.
Contact: 215-230-5330 Tom(at)Heritagecs(dot)com