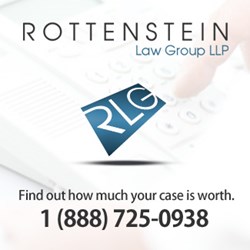 Rockville Centre, NY (PRWEB) January 17, 2014
The Biomet companies that are defendants in multidistrict litigation over the M2a Magnum hip implant products have filed a motion with the court overseeing pretrial procedures to dismiss the complaints of four plaintiffs for failure to file certain required initial disclosures, according to documents filed in the matter.*
The papers filed by counsel for the defendants argues that the appropriate penalty for the failure of four different claimants to file a "plaintiff fact sheet" by January 14 is dismissal of their respective lawsuits, inasmuch as those claimants are in violation of a prior court order, according to documents submitted by Biomet. The Rottenstein Law Group LLP, a metal-on-metal hip implant law firm that maintains a Biomet lawsuit informational web page, discusses the news and how it could impact those who have filed or are looking to file Biomet lawsuits.
"While we don't want to see any legitimate complaint made by any hurt person dismissed because of mere lateness in filing a required document, it is nonetheless important that all parties abide by the orders of the courts handling these cases," said Rochelle Rottenstein, principal of the Rottenstein Law Group LLP.
There are about 800 Biomet lawsuits pending in federal court, stemming from claims that the company's M2a Magnum hip implant caused patients to suffer from serious side effects. Plaintiffs in Biomet lawsuits have alleged a handful of complications, including pain, device failure and metal poisoning, according to court documents.
The Rottenstein Law Group LLP encourages those who believe they have suffered from the Biomet's alleged side effects to download a free brochure to learn more about Biomet lawsuits and side effects, and how to contact an attorney for a free consultation.
*IN RE: BIOMET M2a MAGNUM HIP IMPLANT PRODUCT LIABILITY LITIGATION, no. 3:12-MD-2391, U.S. District Court for the Northern District of Indiana.
About THE ROTTENSTEIN LAW GROUP LLP
The Rottenstein Law Group LLP is a New York-based firm that represents clients nationwide in mass tort actions. The firm was founded by Rochelle Rottenstein, who has more than two decades of experience as a lawyer, to represent clients hurt by defective medical devices and medications. (Attorney advertising. Prior results do not guarantee a similar outcome.)
Contact:
The Rottenstein Law Group LLP
Rochelle Rottenstein, Esq.
100 Merrick Road
Suite 226W
Rockville Centre, NY 11570
(212) 933-9500 (office phone)
(212) 933-9980 (facsimile)
rochelle (at) rotlaw (dot) com
plus.google.com/106070664376281033016