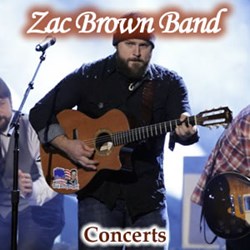 Milwaukee, Wisconsin hosts Summerfest, a top notch festival of live music. Held yearly the festival lasts for 11 days, has 11 stages with over 1000 performances including the Zac Brown band.
Milwaukee, WI (PRWEB) January 17, 2014
Zac Brown Band tickets for his concert July 3, as a part of the Summerfest in Milwaukee this summer, go on sale this morning. But even when tickets are sold out at the box office they will remain available at ZacBrownBandConcerts.com, including lawn seats and premium tickets. Fans can find seats for all Zac Brown concerts at all other venues as well at the website.
In 2014, the Zac Brown Band embarks on another barn-storming tour of the nation. Formed in Georgia by singer-songwriter Zac Brown in 2002, the band became one of the country's true supergroups. Band members include Coy Bowles on guitar and keyboard, John Driskell Hopkins on base, Jimmy De Martini on fiddle, and Chris Fryar on drums. The band's unique fusion of country, folk, and southern rock evolved with the more recent additions of Clay Cook on keyboard, steel guitar, and mandolin, and Daniel de los Reyes on percussion. Critically acclaimed, their 2012 album "Uncaged" garnered a Grammy for best country album of the year. Beloved by fans, the Zac Brown Band can boast nine number one singles on the Billboard Country charts, including "Chicken Fried," "Highway 20 Ride," "As She's Walking Away," and "Goodbye in Her Eyes." Buy your tickets now to experience the Zac Brown Band live!
Milwaukee, Wisconsin hosts Summerfest, a top notch festival of live music. Held yearly the festival lasts for 11 days, has 11 stages with over 1000 performances. This year the performers include Bruno Mars, Lady Gaga, Dave Matthews Band and Zac Brown Band to name a few. Anyone not familiar with Bruno Mars can hear him performing during halftime at the Super Bowl. Milwaukee World Festival, Inc. recently renovated approximately 22-acres of the 75-acre site, Henry Maier Festival Park, with a 2-phased $35 million construction project. In 2012 a covered music venue on the waterfront, the BMO Harris Pavilion as well as an elevated covered lakeside bar, restrooms and unique lakeshore amenities for festival-goers was completed. Visitors enjoy a lot to do while attending the festival. Beside the live music, great food and beverages, one can check out new products and interactive exhibits. Attendees can also shop for apparel, jewelry, home accessories, artwork and more. Festival dates run from June 25, 2014 to July 3, 2014 with Zac Brown performing on the final day.
Tickets-Cheapest.com continues to beat rivals like Stubhub for cheap concert tickets for upcoming concerts, plays, and shows including hundreds of events, based on recent comparison surveys. The newest round of contests between 25 competitors and Tickets-Cheapest.com once again proved Tickets-Cheapest.com beat them all for total cost of tickets and fees.
No matter if personal Summerfest plans include only the Zac Brown Band concert or every performance by Lady Gaga, Bruno Mars and Dave Matthews as well, music fans should enjoy great performances and save money by purchasing tickets from ZacBrownBandConcerts.com or Tickets-Cheapest.com online.
About Financial Firebird and Tickets Cheapest
The site to purchase cheap concert tickets online and its sister sites, including the site to purchase a New York Broadway musical ticket or tickets for Broadway tours, all geared for the consumers looking for low prices, are affiliated with the Financial Firebird Corporation Travel Group, and stand among the top sites sought by travelers and people who enjoy concerts, pro sports and theater performances. Financial Firebird Corporation, established in 2000 and a proud BBB member, provides unbiased consumer information particularly involving personal unsecured debt or mortgages, software and marketing services. These sites for consumers to buy tickets online operate in the resale market and maintain no relationship with the venues or performers. The resale ticket market allows consumers access to popular events once the box office has sold out or to buy premium seats when the venue no longer offers any inventory. Within the group of these secondary market ticket services the Financial Firebird owned ticket sites offer lower prices than competitors. Find the sites at ZacBrownBandConcerts.com and Tickets-Cheapest.com.