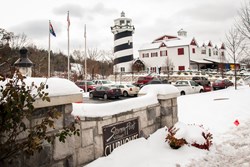 Branson, MO (PRWEB) January 17, 2014
They proudly donated various gifts needed to help many families in the Branson area. Items included clothing, a personal hygiene product, and a toy of their choosing.
Pat Joyce, Summerwinds Resort Services, LLC. CEO, believes very strongly in the importance of education and children, especially those right in our community. "By helping to brighten their Christmas in the smallest way, we can start their 2014 on the right track," states Mr. Joyce. "We are thrilled to be a part of this effort, along with other community individuals, churches and school service organizations."
Branson Schools were able to reach 387 families, over 900 children, this year with the efforts of the Christmas Assistance Program.
Stormy Point Village, part of the Summer Winds Family of Resorts, is an enchanting resort, styled after a timeless Cape Cod fishing village. Located on magnificent Table Rock Lake, the resort is surrounded by the beauty of the Ozark Mountains, yet just minutes from the bustle of Branson's famed 76 Music Boulevard. The 2 and 3 bedroom cottages are a classic design with a contemporary flare, each featuring granite countertops, stainless steel appliances, a 42 inch flat screen TV, and a private porch for relaxing in the cool mountain air.
At a Summer Winds resort, the opportunities are endless, the resorts are spectacular and the service is unparalleled. Summer Winds' founders, Joseph Pat Joyce and Dawn M. Joyce are no strangers to the resort industry. Joined by partners Darren Abbott and Rich Dowdell, they collectively contribute more than 75 years of experience and success in the vacation ownership industry to Summer Winds Resort Services.
For over twenty-five years, the Summer Winds team has developed award-winning programs and luxury resorts that thousands of owners enjoy. With over 400 employees working across the country, Summer Winds Resort Services has become one of the fastest growing hotel and resort entities in the U.S.
Media Contact:
Robert Vonch
Webmaster, Integrated Marketing Group
rvonch(at)summerwindsresorts(dot)com
(417)243-8056