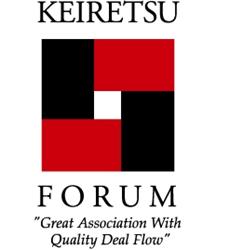 New York, NY (PRWEB) January 17, 2014
Keiretsu Forum Mid-Atlantic (K4-MA) – with chapters in Philadelphia, Washington, D.C., Pittsburgh, and New York and part of the global Keiretsu Forum angel network – will present five early-stage companies to investors at next week's monthly forum event. The meeting will showcase two technology companies, one life science company, one consumer company and one clean-green energy technology company* at meetings in New York, Philadelphia, Washington, D.C., and Pittsburgh. Attendance is by invitation only.
More than 100 accredited investors will see the same companies present their business investment opportunities in New York on Tuesday, January 21; in Philadelphia on Wednesday, January 22; in Washington, D.C on Thursday, January 23; and in Pittsburgh on Friday, January 24.
Two of the K4-MA cities are among the five top metropolitan regions for life sciences venture funding. According to recent data from the PricewaterhouseCoopers LLP/National Venture Capital Association MoneyTree™ Report, based on data from Thomson Reuters, venture capitalists invested $1.4 billion in 167 life sciences deals during the first quarter of 2013. New York was one of three of the five regions that saw double-digit increases in investing in Q1 2013, increasing 66 percent, while the Washington, D.C. metro area grew 53 percent. The top five metropolitan regions that received life sciences venture capital funding during Q1 2013 included the San Francisco Bay at $427 million, Boston at $273 million, the San Diego Metro at $122 million, the New York Metro at $106 million, and the Washington Metroplex at $100 million. These top five regions captured 74 percent of the dollars invested in life sciences companies in the first quarter of 2013. Biotechnology companies accounted for 68 percent of the dollars invested in life sciences deals in the top five metro regions.
About Keiretsu Forum
Keiretsu Forum is a global angel investor network with more than 900 accredited investor members throughout 27 chapters on three continents. Keiretsu Forum Mid-Atlantic (http://www.KeiretsuForum-MidAtlantic.com) consists of four chapters that function as a single entity – Philadelphia, Washington, D.C., Pittsburgh, and New York. Keiretsu is a Japanese term for a group of organizations with interlocking business relationships, and Keiretsu Forum is a group of accredited investors with interlocking investment interests. Each chapter or region meets monthly to present rigorously screened candidates for investments. Keiretsu Forum's mission is "Great Association with Quality Deal Flow."
The Mid-Atlantic Region presents approximately five deals a month, 60 a year, to its members and accredited investor guests. Slightly more than 10 percent get funded, which is higher than the industry average. Approximately 36 funding applications are submitted each month to the K4-MA DealRoom website, http://www.K4-DealRoom.com and vetted by industry specialists. About 10 are then vetted by members at monthly screening meetings where they participate in a highly structured presentation-and-feedback-learning session. Four to five of the screened companies are then invited to present at subsequent monthly Forum meetings. Entrepreneurs invited to move forward to the Forum meetings must participate in mandatory professional coaching sessions to optimize the delivery of their presentations and also agree to participate in the road show to all four cities in the region, with exposure to approximately100 investors. Subsequently, information about their companies is posted on the organization's online global deal room for reference by all 900+ members. For global information visit: http://www.KeiretsuForum.com.
*Due to the new SEC 506(c) ruling made in September 2013, Keiretsu Forum cannot disclose the names of the companies that will be presented at these events until after funding is received.