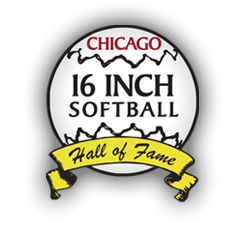 (PRWEB) January 21, 2014
Over 3,800 people voted for their favorite and best stars of the most lovable sport in Chicago, 16-Inch softball. After long review and countless hours of tally up votes, Chicago 16-inch Softball Hall of Fame is proud to announce the winners of this year's 2013 Hall of Fame inductees.
Since its start in 1995, Chicago 16-Inch Softball Hall Of Fame has inducted more than 400 former and current softball players, umpires, managers and organizers who have excelled in their sport. In addition to the inductees, special recognition is given to supporters and teams who have made a difference in the sport with their quality of effort/play and longevity.
"We are excited to honor and highlight those committed to the game and invite the public to join in the celebration," said Ron Kubicki, president, Chicago 16-inch Softball Hall of Fame. "The Hall of Fame is the most prestigious honor among the players who have dedicated themselves to the sport. As usual there is a great mix of returning and new names who are worthy of this award."
The Hall of Fame will be celebrating their induction at the 18th annual awards dinner at Drury Lane in Oakbrook Terrace on Saturday April 26, 2014. For dinner, information visit http://www.16inchsoftballhof.com/hall-of-fame-dinner/.
Inductees are as followed

Women: Renee Strasser, Colleen Lintart.
1993 to Current: Israel Sanchez, Dave Reuhl, & Danny Jalowiec
1981 to 1992 ERA: Bruce Parker, Drake Jones, & John Stock
1964 to 1980 ERA: Ken Izral, Robert (Bobby) Bernstein, & Ray Johnson
Pioneers: Don Savage
Organizers: Ron Onesti
Umpires: Pete McGuire
Managers: Sherman Nelson, Rich (Chubbs) Polfus
Frank C Holan Award: John Reglein, Rich Catizone
Richard J. Daley Award: Sal Milazzo
Wall of Fame: Curtis Granderson Sr., Toncie Siriscevich, Daniel (Sheik) Carmody, & Tom (Bomber) Horn
Teams: Deathwish, Peppers, Saints, & Traffic
Field of Dreams Award: Clyde Park
Presidential Service Award: MB Financial Bank
City of Chicago High School Champs: Northside Prep
For more information, please call Donna Levy at (630) 696-5049 or visit http://www.16inchsoftballhof.com
About the Chicago 16-inch Softball Hall of Fame
The Chicago 16-inch Softball Hall of Fame is a nonprofit dedicated to preserving and honoring the history, players and supporters of 16-inch softball. Since its inception, the Hall of Fame has inducted more than 400 former and current softball players, umpires, managers and organizers at annual dinners averaging 600 attendees. Follow us on Twitter or Follow us on Facebook
If you would like to donate, please contact Donna Levy at (630) 696-5049 or email: Dlevy(at)kellencompany(dot)com