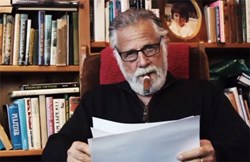 We are thrilled, but not surprised, by the overwhelming response from Orvis customers to this campaign, which continues to far exceed our goals for customer engagement and donations supporting the great work Morris Animal Foundation does" -Perk Perkins
Manchester, VT (PRWEB) January 16, 2014
The Orvis Company continues to lead the charge against canine cancer by raising funds and awareness through their Orvis Cover Dog Contest for Morris Animal Foundation, a nonprofit organization dedicated to advancing veterinary medicine for animals. The photo contest, which began in 2009, has raised nearly $1 million for Morris Animal Foundation's fight against canine cancer.
To help celebrate hitting this major milestone, Orvis and Morris have teamed up with dog -lover Jonathan Goldsmith, best known for his role as Dos Equis' "Most Interesting Man in the World." Jonathan and his dog Willy volunteered to help Morris' efforts by filiming two online commercials for the campaign.
"The health of animals, especially dogs is important to me, " said Goldsmith "the opportunity to help the Morris Animal Foundation in their efforts and also work alongside Willy was hard to resist. I'm glad to help and I hope people like the spots as much as we enjoyed filming them."
Videos can be viewed at http://www.orvis.com/coverdog
The Orvis Company will run the Million Dollar Dog Sweepstakes from January 15, 2014, to February 15, 2014. This special event marks the company's commitment to curing canine cancer and celebrates its five-year partnership with Morris Animal Foundation.
Individuals who enter the current cover dog contest between January 15 and February 15 will be entered into the sweepstakes. Winners will be chosen by the Orvis Company staff, and one winner will be crowned the Million Dollar Dog. The winner will receive one year's worth of Blue Buffalo dog food and a deluxe TempurPedic dog bed and a $500 gift card both from the Orvis Company. A number of prizes are also available to runners up.
"Dogs are at the heart of the Orvis culture, and even more so, our lives," said Perk Perkins, CEO of Orvis. "We know our customers share this passion for their dogs. We are thrilled, but not surprised, by the overwhelming response from Orvis customers to this campaign, which continues to far exceed our goals for customer engagement and donations supporting the great work Morris Animal Foundation does to advance the science of curing canine cancer."
"Morris Animal Foundation is grateful for our partnership with the Orvis Company and to Jonathan Goldsmith" said Dan Reed, chief development officer with Morris Animal Foundation. "This partnership will allow our Foundation to continue to fund the best science that will find preventives, treatments and hopefully one day a cure for cancer."
To learn more or to enter today visit the Orvis Cover Dog Contest website today at http://www.orvis.com/coverdog
About The Orvis Company
Founded in 1856, Orvis pioneered the mail order industry in the United States, currently mailing nine catalog titles and three websites offering the world's finest fly-fishing gear, quality men's and women's apparel, gifts, home furnishings, luggage, pet accessories, and wingshooting gear, as well as sporting schools and travel adventure services. Orvis operates more than 80 retail stores in the U.S. and the U.K. including its Flagship store in Manchester, VT, and serves a network of over 400 independent dealers worldwide. Orvis commits 5% of pre-tax profits each year to protecting nature, supporting communities and advancing canine health and well-being. Orvis headquarters are in Manchester, Vermont. Learn more at http://www.orvis.com.
About Morris Animal Foundation
Morris Animal Foundation is a nonprofit organization that invests in science that advances veterinary medicine for companion animals, horses and wildlife. It is a global leader in animal health science, and its funding helps more species in more places than that of any other organization in the world. Since its founding in 1948, Morris Animal Foundation has invested more than $70 million toward 2,000+ studies that have led to significant breakthroughs in diagnostics, treatments, preventions and cures for animals. Learn more at http://www.MorrisAnimalFoundation.org.