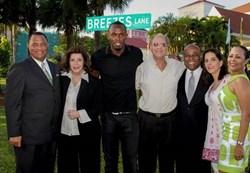 Nassau, Bahamas (PRWEB) January 16, 2014
Six-time Olympic Champion Usain Bolt helped the Issa family unveil the new Breezes Lane street sign that now marks Breezes Bahamas' entrance. On January 12, the Jamaican track star joined Prime Minister Perry Christie, Minister of Tourism Obediah Wilchcombe, SuperClubs Chairman John Issa, his wife Aida and daughters Muna Issa and Zein Nakash and other special guests for the celebration. With recent road construction along the Cable Beach strip completed, Breezes Bahamas now sits on a cul-de-sac and is easily accessible from two entrances. Breezes Lane is open to the public.
SuperClubs' 391-room Breezes Bahamas opened its doors in 1996. The first and only Super-Inclusive resort in The Bahamas sits on legendary Cable Beach where guests can sink their toes into the white sand under the Caribbean sun. The beachfront resort boasts activities ranging from rock wall climbing, tennis, and beach volleyball to kayaking and windsurfing. Guests can also indulge in relaxing spa treatments and salon services at the à la carte Blue Mahoe Spa. At night, a lively piano bar stays open until the last person leaves, or guests can take their chances at one of the many nearby casinos. The resort welcomes singles, couples and families with children age 14 and older.
Bolt, the IAAF 's World Athlete of the Year, Track & Field Athlete of the Year, and three-time Laureus Sportsman of the Year is a personal friend of the Issa family.