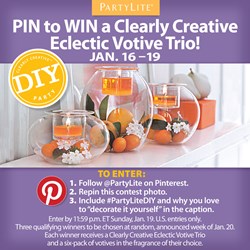 We strongly emphasize products that can be used in all seasons and for all kinds of occasions with a few simple, creative changes...that's a huge part of the value of PartyLite décor. - Rob Goergen, President of PartyLite Worldwide
Plymouth, MA (PRWEB) January 17, 2014
Who's the new life of the party? You are.
PartyLite, the world's #1 party plan candle company, says the big news these days is its Clearly Creative™ DIY Parties.
DIY? At PartyLite it means "Decorate It Yourself." And DIY Parties? They're a hot new trend taking off globally in the 21 countries where PartyLite sells candles, candle holders, flameless fragrance, wax warmers and holiday and home décor.
Traditionally, home parties happen at the host's home, where guests watch and listen to a presentation. "Our traditional party format has worked beautifully for 41 years," said Rob Goergen, President of PartyLite Worldwide, "and it always will. But two subtle things have led to DIY Parties - our products are more versatile than ever, and our guests love to be active and creative."
"We strongly emphasize products that can be used in all seasons and for all kinds of occasions with a few simple, creative changes," he said. "That's a huge part of the value of PartyLite décor." As for the party guests, "They're more actively involved in decorating their homes these days. They're passionate and enthusiastic. And the DIY Party unleashes their creativity. Guests play an active, hands-on role, exploring the endless decorating possibilities with these products. They're really the stars of the party, and their creations are terrific!"
How does it work? Lots and lots of creative materials are provided for guests –in addition to candles, perhaps dried flowers, marbles or glass beads. Or nuts, fruits and candies – or seashells, pine cones and decorative stones – or unexpected things like tiny toys, coins, colored pastas, wine corks, decorative soaps, bottle caps, puzzle pieces, drink umbrellas, spices or lip glosses. None of it is expensive; all of it is fun.
Then, guests are invited to step up and decorate in teams using their creativity with candle holders, hurricanes and other clear glass décor pieces that can hold pretty much anything they choose. Door prizes are given out, everyone gets a sparkly party bag full of surprises, guests and hosts take photos and videos that wind up on Facebook, Twitter, YouTube and Pinterest. There's no limit to the possibilities or the pride of creativity.
To focus on the DIY Party craze, PartyLite is sponsoring a kick-off Pinterest contest in the U.S. Jan. 16-19. Everyone is invited to PIN to WIN a three-piece PartyLite Clearly Creative Eclectic Votive Trio and a box of votives in their choice of fragrance. To enter, simply follow @PartyLite on Pinterest, repin the contest photo, include #PartyLiteDIY and why you love to "decorate it yourself" in the caption. Three participants will be chosen at random to win the beautiful glass candle holders and six-pack of votives – a $48 retail value.
"PartyLite consultants are beyond excited by the success of DIY Parties," said Karen Conkey, PartyLite U.S. Vice President of Sales. "It's kind of like what happens when everybody cooks together. It's a wonderful way to enjoy each other's company, there's always a lot of fun and laughter, and guests not only love it – they can't wait to have a DIY Party at their house! We're the only party plan company we know of that offers this much 'DIY' fun!"
About PartyLite
PartyLite is the world's #1 party plan company selling candles, candle holders, flameless fragrance and wax warmers as well as holiday and home décor in 21 countries through nearly 45,000 independent PartyLite business entrepreneurs. PartyLite ranks #31 in the Direct Selling News "Global 100 top revenue-generating direct selling companies." Based in Plymouth, Mass., PartyLite is a member of the Direct Selling Association and the Better Business Bureau. In 2014, PartyLite celebrates 41 years as the global leader in its category and 24 years as a member of the distinguished Blyth family of companies (NYSE:BTH). For more information, please visit http://www.partylite.com.