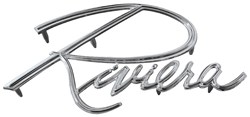 Seal Beach, CA (PRWEB) January 16, 2014
Original Parts Group Inc., (OPGI) the industry's leading supplier and manufacturer of restoration parts for classic GM cars meets the needs of classic Buick fans with the introduction of the new reproduction of the previously impossible-to-find Riviera Fender and Hood Emblem.
Because exterior emblems are exposed to the elements, they often look more battered and worn out than the rest of a classic automobile, especially a restored one. In order to complete a factory-correct restoration job, OPGI now offers new emblems that are ultra-high-quality, exact reproductions of the long discontinued factory Riviera emblems used on the front fenders of 1963-67 Buick Riviera model cars. The 1967 model Riviera used the same emblem on the front of the hood.
To help maintain the original factory appearance, each emblem is made of durable die cast zinc alloy and finished in bright chrome plating just like the original GM components and each features original style studs that fit the factory mounting holes correctly for an easy, hassle-free installation. OPGI's zinc alloy die casting process yields a deep three-dimensional appearance to the finished emblem and the durable bright chrome plating promotes long life to keep your Buick Riviera looking great for many years to come.
Original Parts Group, Inc. is your GM restoration and performance source! Celebrating 31 years of manufacturing and retailing GM restoration parts and accessories, OPGI is recognized as the nation's number one supplier and manufacturer of classic GM parts and is committed to maintaining that reputation and serving the needs of its customers for years to come. For more information, visit OPGI.com or call toll free: 1-800-243-8355.