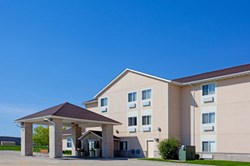 Chicago, IL (PRWEB) January 17, 2014
Paramount Lodging Advisors (PLA) is pleased to announce the sale of the Holiday Inn Express in Lincoln, IL. The 69-room property opened in 1996 and is strategically located on Interstate 55 between Bloomington, IL and the state capital of Springfield, IL.
PLA's Managing Director Brent Clemens facilitated the transaction, which took less than three months from beginning to close. "The transaction marks our third consecutive successful closing between Bloomington and Springfield in less than a year, with a consistent increase of investor interest and value in key Central Illinois markets," noted Clemens.
Paramount Lodging Advisors (PLA) is a hotel brokerage and advisory firm specializing in the sales of hospitality assets, debt and equity placement, as well as value enhancement services across the United States. For more information about PLA, please visit http://www.paramountlodging.com/.