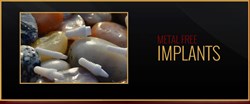 Seattle, Washington (PRWEB) January 19, 2014
Losing a tooth is a major inconvenience for an adult. While some choose to simply let the gap remain, most individuals who lose teeth turn to dentists for a solution that will allow them to find a functional replacement for the lost tooth. The most common way that teeth have been replaced in the Seattle area is with dental implants -- usually metal-based tooth substitutes that are surgically implanted in the mouth and take the place of a missing tooth. Years of research and development have finally brought about a replacement for these metallic implants, though, creating a healthier and more aesthetically pleasing alternative. The dentists at Smiles by Design have begun to use non-metallic implants that are on the cutting edge of dental science -- and that have made many of their patients happy with the results.
The use of dental replacements has long been a common practice in dentists' offices around the world, with patients often requiring significant work done to restore their smiles to their former glory. Unfortunately, many of these replacements have been seen as half-measures at best, as the implants used have solved the major problems with missing teeth but left behind aesthetically unpleasing metal products in the tooth's place. These metal teeth are an all-too-common sight, a badge of shame that has led to many individuals with traditional metal implants to avoid smiling and to do what they can to avoid revealing their implants to the world. The solution to a missing tooth, for many, has seemed almost as bad as losing the tooth itself.
Fortunately, there are now alternatives to metal implants. The Redmond dentist office Smiles by Design has begun to use metal-free implants that allow their patients to reclaim their smiles while still being offered a permanent solution to their dental woes. These solutions are far more pleasing to the eye than the previous models, with a look that mimics that of real teeth. When patients are offered the choice of metal-free implants, they are given the ability to recapture a smile that they may have thought long gone. Even better, the natural look can give many of these patients a confidence that they have never had.
Of course, metal-free implants are more than an aesthetic choice. There are very real medical reasons for using these implants instead of their traditional cousins. The most dramatically impacted are those patients who have allergies to metals. Before the advent of these implants, the patients were left looking for far less permanent tooth substitutes, substitutes that were both harder to maintain and offered less strength. When the metal-free implants became available, though, these same patients were able to replace teeth that may had been lost years ago, but were rendered irreplaceable by simple medical reasons.
Even those patients who do not have adverse reactions to metals still find themselves well served by the dental implants Seattle dentists have begun to use. Because these implants benefit from years of advanced research, they are far more compatible with the human body than their older counterparts. The greater level of compatibility makes the implants far more resistant to corrosion, and it also keeps the implants from attracting excess bacteria. This makes the implants not only safer to use, but easier for patients to keep clean -- thus creating a greater level of future dental health.
Patients also benefit from the simple procedures used to place these implants in the mouth. When a patient comes in for a procedure involving a rotten tooth or even TMJ, Seattle dentists are able to determine quickly whether a tooth needs to be extracted. Once extraction takes place, the implant can be placed immediately. The newer design helps to reduce inflammation and other health hazards that have traditionally occurred with dental implants, allowing patients to recover more quickly and to move on with their lives. In many ways, the new implants provide patients with a stronger and healthier alternative to the older methodology.
Metal-free dental implants have changed the way that teeth can be replaced. Not only have these implants been found to be safer and easier to use than their traditional counterparts, but the removal of metal will also allow many patients who were previously ineligible for implants to have their smiles fixed. The dentists at Smiles by Design now offer a product that not only allows their patients the chance to reclaim their smiles, but also allows them to do so in a manner that will help to ensure their future dental health.