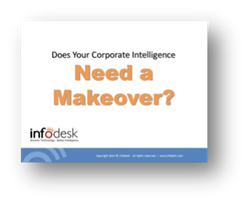 The less time people spend searching for information, the more time they can spend utilizing it.
Tarrytown, NY (PRWEB) January 17, 2014
InfoDesk, a leading provider of corporate and government intelligence solutions, today announced that InfoWatch business intelligence dashboard was named a finalist for the 2014 SIIA CODiE Awards for "Best Business Information Solution." Finalists represent the information industry's best products, technologies, and services created by or for media, publishers, and information services providers.
The Software & Information Industry Association (SIIA), the principal trade association for the software and digital content industries, announced InfoDesk as one of 91 CODiE Award content finalists across 26 categories.
InfoWatch is a customized business intelligence dashboard/portal solution that federates, filters, displays and delivers the most current, relevant news, information and data from any source. InfoWatch makes it easy to build and deploy multi-media, content-rich dashboards and Web portals that match an organization's own branding and supply all users with exactly the content resources they need. Learn more about InfoWatch.
"When we demo InfoWatch, viewer's jaws literally jaw-drop," said Sterling Stites, InfoDesk CEO. Many organizations, Stites explained, make it so difficult for people to find the information they need to do their jobs. They just have no idea how easy and affordable InfoWatch makes it to integrate all of their content sources, filter by topics that matter to them and deliver it all on a single, easy-to-use dashboard. "The latest version of InfoWatch is so powerful, you really have to see it to believe it."
According to Stites, InfoWatch provides measurable return on investment by driving information usage, thereby greatly reducing the cost and time associated with redundant searches across the organization. "The less time people spend searching for information, the more time they can spend utilizing it." Further, InfoWatch communicates critical business intelligence more efficiently and facilitates better decision making and workflow.
"The CODiE Awards competition was extremely competitive this year and our finalists set the standard for innovation and quality in the media, publishing and information service markets," said Kathy Greenler Sexton, VP & General Manager for the Content Division at SIIA. "Each and every finalist should be commended for their innovation and market-leading products and services. I look forward to seeing them all at the Information Industry Summit in January."
During the SIIA's annual flagship conference for information industry leaders, IIS 2014: Breakthrough on January 29 & 30th in New York City, all finalists will have the opportunity to showcase their products to the 300+ information industry leaders in attendance. CODiE winners will be announced at a special Content CODiE Awards luncheon that concludes the conference on January 30th.
The SIIA CODiE Awards are the industry's only peer-reviewed awards program. The first round review of all nominees is conducted by media, publishing, and information services executives with considerable industry expertise, including members of the industry, analysts, media and bloggers, and bankers and investors. The judges are responsible for selecting the CODiE Awards finalists. SIIA members then vote on the finalist products and the scores from both rounds are tabulated to select the winners. View details about each finalist.
About InfoDesk
InfoDesk specializes in cutting-edge business intelligence solutions that help organizations integrate, deliver and share content resources more quickly, cost effectively and securely. For more than twelve years InfoDesk has helped some of the largest multinational corporations, top government agencies and media companies integrate, deliver and share large volumes of information more effectively. InfoDesk is based in Tarrytown, NY with offices in London and Washington DC. Watch our 2-minute video.
About the SIIA CODiE™ Awards
The SIIA CODiE™ Awards, originally called the Excellence in Software Awards, were established in 1986 by the Software Publishers Association (SPA), now the Software & Information Industry Association (SIIA), so that pioneers of the then-nascent software industry could evaluate and honor each other's work. Since then, the CODiE Awards program has carried out the same purpose – to showcase the software and information industry's finest products and services and to honor excellence in corporate achievement.