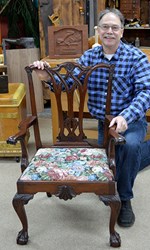 Woodcraft is proud to sponsor 'The American Woodshop' for another season of projects from Scott and Suzy Phillips that will challenge and inform woodworkers.
Parkersburg, WV (PRWEB) January 17, 2014
Co-hosts Scott and Suzy Phillips focus on American originality in furniture design and creativity in the use of hand tools as they begin the 21st season of "The American Woodshop" on public television on Saturday, January 18.
"American handmade furniture captures our free thinking ways," Scott said. "Every woodworker puts a lot of who he or she is into their work, and most woodworkers are passionate about working with their hands. Free-form designs, like the hard line–soft line ideas of Sam Maloof, break with tradition. Freedom of expression shines when people add their own unique touches to everything they make by hand in their own shop. This leads to uniquely original furniture. That's something to celebrate, and we do just that with Season 21 projects."
Woodcraft Supply, LLC, the Kreg Tool Company, Easy Wood Tools, the Gorilla Glue Company, and O'Keeffe's Working Hands provide funding for "The American Woodshop," which is produced by WBGU-TV in Bowling Green, Ohio, and carried on 350 plus PBS stations.
"Woodcraft is proud to sponsor 'The American Woodshop' for another season of projects from Scott and Suzy Phillips that will challenge and inform woodworkers," Woodcraft president Jody Garrett said. "The show offers inspiration and valuable instruction that are a good fit for Woodcraft's mission to provide educational opportunities for woodworkers."
In addition to furnituremaking skills, several of the Season 21 projects incorporate specialized woodworking skills such as the Chippendale carvings found on the handsome Philadelphia Ball and Claw Armchair, the scrollsawing that produces Scroll Saw Puzzles, the bending wood necessary to build the Oval Tray Table, and the classic dovetail joints featured in the base of the Shaker Style Secretary. Two other projects involve turning – Kitchen Turned Bowls and Custom Cutlery and Turned Stools and Candle Stands.
Three projects are designed for the woodshop: Shop Made Workbenches, portable benches made from recycled hard maple; Shop Jigs, affordable solutions to everyday woodworking challenges; and a Two-Drawer Tool Tray.
Rounding out the lineup are a Tiled Marble Top Washstand, a 1930 Relief Accented Desk, a Scrolled Leg Stand, and a Curio Cabinet featuring willow columns.
"There are many guests from all over America who join us to present breakthroughs in details from carving, scrolling, workbench designs, and even dust collection," Scott said. "We also dig into hand-tool use with planes, sharpening tools and jigs and apply these seriously sharp tools to ball and claw legs, a relief accented desk and even a tool tray."
Call your local public television station to find out "The American Woodshop's" airtime. "We air 51,000 plus times a year all over America," Scott said. "Plus http://www.wbgu.org/americanwoodshop is available for everyone around the world and airs the shows after a season concludes." Viewers who want to make the shows part of their reference library can purchase season DVDs.
For more information about Woodcraft, please contact the store nearest you, visit http://www.woodcraft.com or call (800) 535-4482. To learn about Woodcraft franchise opportunities, visit http://www.woodcraftfranchise.com or email woodcraftfranchise(at)woodcraft(dot)com.