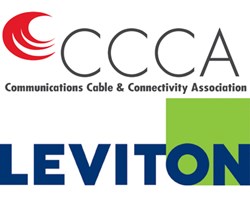 Leviton has been impressed with CCCA initiatives, focus on education and creating awareness
Washington, DC (PRWEB) January 16, 2014
The Communications Cable and Connectivity Association (CCCA), a non-profit group of leading cabling manufacturers, distributors and material suppliers, announces that Leviton has joined the association and welcomes Mr. Ross Goldman to its Board of Directors.
Bill Kloss, of OFS and CCCA Chairman said, "We at CCCA are thrilled that Leviton has chosen to add its voice to ours by joining the association. Leviton's brand recognition and well-established reputation for quality fits perfectly with our membership goals and mission." Ross Goldman, Leviton's Executive Vice President & General Manager, Network Solutions expressed, "Leviton has followed the CCCA and has been impressed with its initiatives and focus on education and creating awareness. We view CCCA as a strong industry association and an excellent platform for Leviton to address issues important to the structured cabling industry and to advance quality."
Counterfeit and non-compliant products are two of the many issues that CCCA is actively educating the industry about to advance quality and protect consumers of cabling and connectivity products. Other CCCA initiatives include guidance on the pros and cons of data center cabling architecture designs and collaboration with other groups on the development of industry best practices for sustainable, smart building infrastructures.
About CCCA
CCCA is comprised of leading manufacturers, distributors and material suppliers who are committed to serve as a major resource for well-researched, fact-based information on the technologies and issues vital to the structured cabling industry. CCCA also is proactive at codes and standards bodies and other trade, industry and governmental organizations in communicating and influencing policy and decisions affecting the quality, performance and societal needs of the structured cabling infrastructure.
CCCA member companies are Accu-Tech; AlphaGary; Anixter; Belden; Berk-Tek, a Nexans Company; Cable Components Group; comCables; CommScope; Daikin America; DuPont; 3M; General Cable; Leviton; Optical Cable Corporation (OCC); OFS, a Furukawa Company; Panduit; PolyOne; Sentinel Connector Systems; Solvay Solexis; Superior Essex; TE Connectivity; The Siemon Company.
Headquarters: 1001 Pennsylvania NW, Washington, DC, 20004. For further information, visit the CCCA website http://www.cccassoc.org or contact Frank Peri, Executive Director at fperi(at)cccassoc(dot)org.