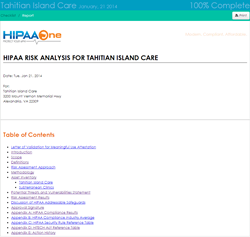 HIPAA One made it easy to produce documentation and the support team responded very quickly to our request for help on how to appropriately respond to our Meaningful Use audit. - Mike M. - HIPAA Security Officer
Salt Lake City, UT (PRWEB) January 31, 2014
Modern Compliance Solutions, Inc., developer of HIPAA One - a simple, automated and affordable web-based alternative to complex or expensive Risk Analysis and Compliance Assessments - will be attending the annual Healthcare Compliance Association Annual Conference in San Diego March 29 - April 2 and will be unveiling its latest, newest version of HIPAA One 2.1.
In addition, to help achieve peace of mind, audit-advisory services will be included in all HIPAA One subscriptions. Specifically, any client using HIPAA One who is asked to respond to a Meaningful Use audit, HIPAA audit or OCR audit can reach out for help in responding most appropriately for proving their HIPAA Security Risk Analysis compliance. Although there is no substitute for sound legal advise from an attorney, HIPAA One dramatically reduces the time taken to manage the entire process including generating required documentation for a HIPAA audit.
Steven Marco, President of Modern Compliance Solutions, states, "To date, we have helped our clients successfully respond to 3 audit investigations and 6 Meaningful Use audits using HIPAA One's documentation. HIPAA One can gather reporting documentation within three clicks of logging into http://login.hipaaone.com.. We guarantee compliance with Meaningful Use to protect CEHRT data requirements when using, and continually updating, HIPAA One."
New features of HIPAA One 2.1 include:
1. Automated inventory upload utility - reduces manual entry of ePHI servers and equipment
2. "Evidential Matter of HIPAA Compliance" added in reporting documentation
3. 3D post-assessment dashboards added: Remediation Activity and Current Risk Status
6. Nessus Vulnerability Scan menu-flags indicate scans pending & expected completion time
7. Added Risk Level to Remediation Plan
8. Reduced clicks and streamlined tab-handling (i.e. less clicks for more results)
9. Simplified interview questions and automated remediation solutions
10. Updates, as always, are automatically pushed to all HIPAA One subscribers
For more information about HIPAA One, visit http://www.hipaaone.com.