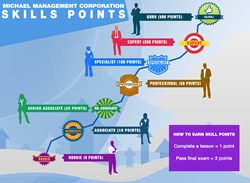 Higher skill levels qualify for additional perks.
San Diego, CA (PRWEB) January 21, 2014
Michael Management Corporation, a leader of award-winning SAP training solutions, has paired gamification with their SAP eLearning. A friendly competition between SAP training users allows account holders to see where they stand relative to other students.
Students can earn skill points by completing lessons and passing final exams. These skill points translate into different skill levels to recognize the achievements of each student. With seven skill levels, students can track their progress as they continue through the lessons. Corporate customers also have access to benchmark results, allowing them to gauge their efficiency against their peers.
Further enhancements to the Michael Management website will include student rankings and top exam performers. These leaderboards will entice students to put in their best effort when completing their training.
Higher skill levels qualify for additional perks. Students can expect to receive by-invitation-only training lessons and webinars, but the only way to see these exclusive perks is to increase in skill level.
Start earning skill points with Michael Management SAP training today:
http://www.michaelmanagement.com/sap-training.asp.
For corporate training subscriptions, visit:
http://www.michaelmanagement.com/training_corporate.asp.
About Michael Management Corporation
Michael Management Corporation is a leading provider of SAP training, SAP access and recognized expert SAP consulting services. The company provides an unmatched level of SAP product expertise and consulting experience. Michael Management's online SAP training courses are used by many Fortune 500 companies around the world to train their users on SAP know-how. For more information, visit http://www.michaelmanagement.com.
Michael Management Corporation (MMC), the MMC Logo and the MMC Swoosh are registered or unregistered trade and/or service marks of Michael Management Corp. and are protected by US and international copyright laws. All other names, brands, logos, etc. are registered trade or service marks of their respective owners. MMC is not affiliated with SAP AG.