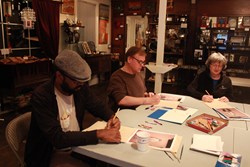 Your eyes are your best tools to use while drawing.Learn to see and you can draw.
(PRWEB) January 24, 2014
Sujata Tibrewala is holding art workshops "Right Brain Workouts for the Artistically Starved" on Jan 27th 6:30-9:00pm at Studio Bongiorno, 500 Lincoln St. Santa Clara, CA 95050.
"The simple act of observing each shade of the color in a leaf, or the fine lines of your palm, while reproducing as seen, changes something in your brain wiring," she says. "You start to see more. You become more aware and more connected with your surroundings."
Creating art encourages one to create solutions she opines. It is never possible to copy anything 100% with the tools one has at hand to reproduce it, unless of course one has the exact cells that make up the leaf. Instead what one has are just the colors, brushes and the paper/canvas. With these, one has to recreate the texture, the translucency, the reflection and the live colors that make up the leaf. Each artist would tackle the problem of reproducing the image of the leaf in their own way and create their own impression. This unique way of each artist's way of creating an image is called their style in today's world. It is this unique style of one's own that a participant will find as a result of attending this workshop.
About Sujata Tibrewala
Sujata Tibrewala, artist cum engineer inherits her love for art from her maternal grandmother. Her grandmother loved to keep herself occupied with "creative works of the hand." Sujata moved to Memphis, TN in 2010, where she served as docent and adult art education advisor at Brooks Museum. Her major exhibit venues include the Regional Commission of Arts St Louis, University of Illinois & Life Force Arts Chicago, Mindworks Gallery Chesterfield,St. Louis Artists' Guild, Chesterfield Arts, Art World Association, Women's Caucus for the Arts and MySLART. In India she has exhibited at Lalit Kala Academy New Delhi, Jawahar Kala Kendra, Jaipur, and Renaissance Gallery Bangalore. She continues to display her art and conduct art workshops at Bay Area, CA, where she resides presently.