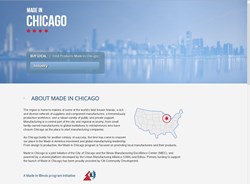 There is a new appreciation of the resurgence of American manufacturing and its potential to revitalize our cities and our economy and to create more quality jobs.
Chicago, Illinois (PRWEB) January 17, 2014
The Illinois Manufacturing Excellence Center (IMEC) and Citi Community Development, supported by World Business Chicago, have joined forces to create a new collaborative program and web tool for the Chicagoland design and manufacturing communities, which will be introduced at the Made in Chicago launch event on January 21, 2014. The event will take place from 5:00-7:00 p.m. at Revolution Brewing, 2323 N. Milwaukee Avenue, Chicago. The website will be available for demonstration at the event.
The Made in Chicago program will serve as a new hub for locally sourced ideas and manufacturing capabilities; ultimately matching designers and manufacturers for nearby production. David Boulay, President of IMEC, will give an introduction of Made in Chicago and the origins of the collaboration between IMEC and Citi Community Development, followed by remarks from Jeff Malehorn of World Business Chicago regarding the correlation to the Mayor's Plan for Economic Growth and Jobs. As the second largest metropolitan manufacturing cluster in the U.S. and generating 85% of all private R&D in the region, Chicago and its surrounding cities provide the ideal climate for manufacturing fellowship and innovation.
"From the White House to city halls all over the country, there is a new appreciation of the resurgence of American manufacturing and its potential to revitalize our cities and our economy and to create more quality jobs for diverse individuals," said George Wright of Citi Community Development. "The re-launch of Made in Chicago reflects our commitment to expanding economic opportunity and job growth, and our recognition that urban centers are where we have the best opportunity to achieve those goals at large scale."
Also on the agenda will be the opportunity to engage with partners of the initiative including Zach Kaplan, CEO of the Inventables, a Chicago-based "hardware store for designers" focused on providing machines and materials for low volume production and projects. Local Chicago designers will hear a "state of the union" on digital manufacturing and Zach will also announce an upcoming opportunity for a select few designers to have their work honored by Inventables.
To learn more about Made in Chicago, head to http://www.madeinchicago.org where you can search for local products, list your company, or submit a request for sourcing support. To learn more about IMEC or other supporting organizations, contact Amy Fitzgerald, IMEC Marketing Manager at 309-677-2977 or afitzgerald(at)imec(dot)org.
##
About IMEC
IMEC was established in 1996 with the goal of improving the productivity and competitiveness of Illinois' small and mid-sized manufacturing firms. A non-profit economic development organization, IMEC is funded in part by the National Institute of Standards and Technology's Manufacturing Extension Partnership, the Illinois Department of Commerce and Economic Opportunity, and through fees paid by Illinois manufacturers for IMEC's services. IMEC has 11 offices statewide and 40 full-time manufacturing improvement specialists.
About Citi Community Development
Citi Community Development (CCD) is leading Citi's commitment to achieve economic empowerment and growth for underserved individuals, families and communities by expanding access to financial products and services, and building sustainable business solutions and innovative partnerships. Our focus areas include: commercial and philanthropic funding; innovative financial products and services; and collaborations with institutions that expand access to financial products and services for low-income and underserved communities. For more information, visit http://www.citicommunitydevelopment.com.
About World Business Chicago
World Business Chicago leads Chicago's business retention, attraction and expansion efforts and raises the city's position as a global business destination. Chaired by Mayor Rahm Emmanuel, WBC fosters private sector growth through the advancement of a business-friendly environment that attracts world class talent, and is responsible for the implementation of Chicago's Plan for Economic Growth and Jobs.