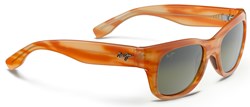 Sunglasses are fun to wear, but we want you to wear them to protect your eyes.
Cincinnati, Ohio (PRWEB) January 18, 2014
Sunglass season is just around the corner. Madeira Optical and Maui Jim have teamed up just in time for the spring shine to bring you the complete Maui Jim sunglass collection on March 8th 2014 from 10-2. A Maui Jim company rep will be on sight to show the full collection and help you pick out the frames for you.
Maui Optical carries Maui Jim and a full line of polarized and prescription sun wear. Maui Jim's Polarized Plus lenses are great for everything for waterspouts to everyday use.
Sunglasses are fun to wear, but people should wear them to protect their eyes. UV light is invisible, penetrating and pervasive, and it poses danger to human eyes and skin. Yet in most people's daily lives, the issue of solar radiation merits little attention. Most are unaware of the serious vision problems that can be caused by exposure to the sun's rays.
The damage can occur at any age, but there's often a cumulative punch in later years. Abnormal growths and disease may be the result, diminishing or distorting vision – or worse.
Many people now recognize the connection between sun exposure and skin cancer, but fewer than one in three Americans fully realize the hazards to the eye. Only 24 percent link UV exposure to cataracts. Sunglasses are way more fun than suntan lotion. Protect your eyes, and look good doing it. Remember to also get a comprehensive eye exam for you and your children.
Visit Madeira Optical or http://www.madeiraoptical.com to learn more.