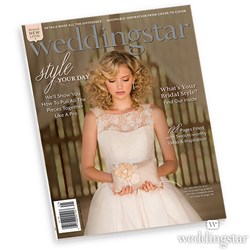 Our brand new magazine is a triumph for our company.
Dunmore, AB (PRWEB) January 17, 2014
Weddingstar Inc. has been putting the "Wow in Weddings" since their inception and continuing over the 30 years they've been in business. With such vast expertise in the wedding world, they are constantly creating new and innovative inspirations to ignite the imagination of every bride and groom. Keeping an ever watchful eye on the trends and always on the cutting edge of wedding décor, they've kept their reputation strong with their imaginative in-house design team and celebrated partnership collaborations. Entering 2014, Weddingstar has once again raised the bar of what wedding accessories are all about with the release of their new magazine. Packed with shoppable inspirations from cover to cover, they've made sure to be any couples' guide to creating a dream wedding .
"Our brand new magazine is a triumph for our company," says a Weddingstar representative. "We've worked tirelessly over the last year honing a brand new look for our publication and we couldn't be more impressed with how it turned out. It's been a long process, but more than worth it, and we can't wait for every bride and groom to be inspired by all our new features and products."
A completely revamped look and feel, Weddingstar's 2014 magazine encompasses every facet of planning that the modern couple experiences. From bespoke wedding invitations to unique guest favours, Weddingstar has ensured that they can guide couple's through their wedding planning journey with ease using their simple To-Do list and accompanying layout. Making it even easier to help brides plan their dream day, Weddingstar has also implemented an innovative way to give insight into their multiple styled wedding shoots with their bridal style quiz. Allowing a quick snapshot of each of the 8 imaginative features, brides can get informed on a multitude of wedding themes that lay within the pages of the new magazine that range from glamorous art deco to chic vintage through this informative and interactive quiz.
Alongside their brand new photo shoots, Weddingstar has also utilized their 2014 publication to show off their brand new lines of products. From their newly designed wedding stationery lines to their brand new decor pieces, each of their recent creations are featured to spark the wedding daydreams of couples everywhere. And, not only does each page come packed with inspiration, but with their shoppable motto, they've ensured that no matter what the seekers wedding needs, they have the products and the ideas inside their 2014 release to help shape any wedding day.
Weddingstar Inc. is one of the world's leading designers, manufactures and retailers of wedding decorations and accessories. Dedicated to providing quality service to brides around the globe, Weddingstar ships to over 100 countries worldwide with distribution points in Europe, North America, Argentina, Australia and Russia. Featuring an ever-expanding selection of bridal accessories with over 3,000 different product offerings, Weddingstar is a one stop destination for every wedding need. With 30 years of experience in the wedding industry and having received numerous business awards, Weddingstar has earned a reputation as the source for 'Putting the Wow into Weddings.' For more information please visit http://www.weddingstar.com.