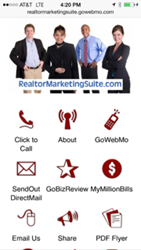 "Chasing the latest online trend to increase your business usually leads to wasted time and money, let alone frustration," said David Weiss, Owner of RealtorMarketingSuite.com.
San Francisco, California (PRWEB) January 17, 2014
RealtorMarketingSuite.com provides a list of overlooked marketing tools designated as essential for Realtors. These often forgotten or unheard of marketing tools repeatedly beat the trends and have been instrumental in increasing brand exposure, client retention, and new business acquisition. It's been shown that real estate agents from across the country; from Los Angeles to Chicago and Dallas to Florida, are utilizing these real estate advertising and marketing tools with great success.
"Chasing the latest online trend to increase your business usually leads to wasted time and money, let alone frustration," said David Weiss, Owner of RealtorMarketingSuite.com. "We believe in offering not only cutting edge technology, but also customized services that have been tested and used for many years. We work closely with the latest real estate listing referrals, realtor marketing and real estate advertising tools to help grow their business."
Making your website mobile friendly tops the list. Websites not mobile-optimized cause users to spend time scrolling, pinching, zooming and squinting to see the information. These mobile website apps also help by offering easy to see buttons that enable clients to contact the business, see active listings, and view photos of active properties that are scaled to fit smart phones and tablets.
Another overlooked tool is keeping track of your online reputation in places like Facebook, Yelp, Google and Twitter. "We provide you a platform that allows you to curb negative comments, encourage customers to leave their positive reviews, as well as collect very valuable customer data. There simply is no other way to make sure your reputation is not ruined online. This is a safeguard everyone should have in place before it happens to you, and on the upside you'll see your real estate listing referrals rise," said David Weiss.RealtorMarketingSuite.com
"Also very effective are contact marketing tools like custom branded emails. These targeted emails drive traffic to your website and increase your exposure. They offer detailed reports: what emails were opened and by whom, notifications, alerts, and tracking that detail exactly when prospects should be called.
A tool that's never lost its power, but is often ignored, is the simple 'Thank you' card. 'Thank you' cards are now automated and completed online, yet still hold that personal, inspired quality.
"We really enjoy providing people with customizable cards and gifts, as well as a system to keep track of all your contacts. This powerful system also alerts you to follow-ups and events you don't want to miss telling your customers about. And the best part is you can get it done in 60 seconds. We print it, stuff it, and mail it for you… yet it's your handwriting on the card," said David Weiss.
RealtorMarketingSuite.com adds to their services: custom branded logos, quality printed marketing pieces and matching, branded websites to include email branding. The goal is to work with clients on an individual basis to develop a design strategy that is unique to their business and appeals to clients. This is translated into matching printed marketing materials and websites built with effective and easy-to-use interfaces that real estate agents can easily manage, while their clients feel at ease using.
With every marketing tool – tried and tested – under one roof, RealtorMarketingSuite.com seeks to offer realtors customizable options that will create successful viral marketing campaigns, create a unique branding message for your business, and increase customer referrals, resulting in long term growth over time.