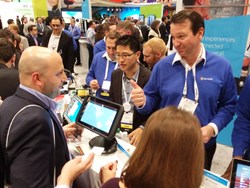 "This is exactly what I've been looking for. I've been searching everywhere for something like this." - Attendee visiting the Microsoft Booth.
New York, NY (PRWEB) January 17, 2014
Mobile Technologies Inc. (MTI), a global leader in mobile device display technologies, partnered with Microsoft to showcase its expansion into the enterprise tablet marketplace with the introduction of a new product line—the Enterprise Tablet Pro™.
MTI's Enterprise Tablet Pro™ is the industry's first fully integrated system that offers complete security, integration and connectivity—all while maintaining the mobility, simplicity and ease-of-use that makes the tablet such a revolutionary tool for business.
"Product innovation and problem solving is the foundation of everything we do at MTI," said David Everson, Director of Global Marketing. "With the Enterprise Tablet Pro, we have expanded our design innovation and retail security expertise into the enterprise tablet marketplace, creating a solution that allows tablets to be mobile, secure and connected for business applications within multiple vertical markets."
Enterprise Tablet Pro was engineered to eliminate the current challenges of tablet deployments for business applications, including:
Eliminating Integration Steps

Develop a turnkey integrated design with a universal connection base + protective tablet case
Supply multiple data inputs for workstation replacement
Enhancing the Usability of Tablets

Design a solution that offers multiple orientations for easy tablet interactions
Engineer a "lock-and-dock" device that provides full connectivity, power and security
Provide complete mobility for the tablet with a single-hand quick release
Integrated hand strap behind the case for single-hand hold and carry
Increasing the ROI for Mobile Enterprise Deployments

Reduce shrinkage/loss with unsurpassed RFID card security
Protect tablet and improve device longevity by designing an integrated, full wire management tablet case
About Mobile Technologies Inc. (MTI)
For over 36 years MTI has been a global leader in mobile device display technologies, developing solutions that deliver the highest level of merchandising security for consumer electronics and mobile enterprise applications allowing products, sales and service to be the focus, while security operates efficiently in the background.